ST ALBANS, UK - The Cardboard Box Company will be racing for superhero glory on Sunday (July 12th 2015) at the Red Bull Soapbox Race in a Lego Batman-themed car built with two Zünd digital cutting machines.

The team from Accrington-based Cardboard Box Company will be competing in the event as You Gotham Be Kidding Me – one of only 70 teams selected from hundreds of applications – at London's Alexandra Palace, with coverage shown on Dave at 6pm on Sunday evening.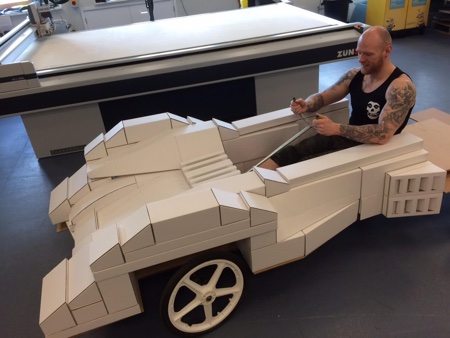 Normally used in the design of packaging, The Cardboard Box Company's Zünd G3 L3200 and Zünd PNXL3000 have been instrumental in the creation of the soapbox car's shell of cardboard blocks.

"People go crazy on different themes for their cars for the Red Bull Soapbox Race, but we decided on Lego Batman," explains Lee Mansfield, IT Manager at The Cardboard Box Company.

"The design was an exercise in trial and error. Our CAD designer Kris Howson used the Zünd cutting systems to create and cut the pieces to build a replica of the Lego Batman Batmobile, which were then fixed to the metal frame using hot-melt glue.

"For the final version, we printed the pieces on our Inca Spyder wide-format printer and cut out the pieces with the Zünd's user registration application. On top of that we've got wings, flame-throwers and battery-powered flashing lights, plus the braking and steering mechanism we need to negotiate the downhill race with ramps and jumps."??As well as the car itself, the You Gotham Be Kidding Me members will be dressed as Lego Batman characters, with costumes also made using the Zünd machines.

"We've built cardboard suits, complete with heads and bulky Lego-like legs," says Lee Mansfield, AKA The Joker. "It was quite tricky as we're all different sizes but they look really good."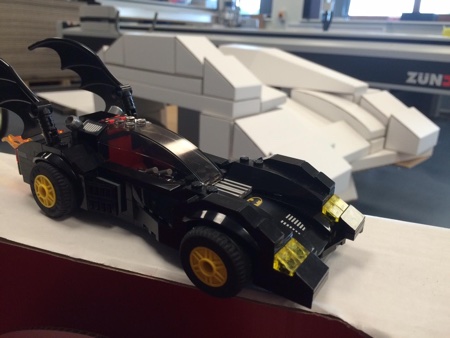 He adds: "Red Bull checks in now and again to see how we're doing and are really impressed by what we've done so far. They also send us batches of Red Bull to keep us going over the past couple of months of designing and building the car!"

Nick Reed, Product Manager at Zünd Plotting Systems (UK) Ltd, comments: "We're looking forward to seeing You Gotham Be Kidding Me's car in action at the Red Bull Soapbox Race. The Cardboard Box Company uses its Zünd G3 L3200 and Zünd PNXL3000 digital cutting machines for some really innovative packaging designs but we don't often see something like a replica Lego Batman car. We wish the team the best of luck on Sunday."

Soapbox fans can follow You Gotham Be Kidding Me's journey to London online, via www.facebook.com/yougothambekiddingmesoapbox, www.twitter.com/legosoapbox and www.redbullsoapboxrace.com/uk/en/team/you-gotham-be-kidding-me as well as through Dave's coverage on Sunday evening.