Florida-based printer gains new business with Meteor XL
MELBOURNE, FL – Naples Print Source expands production capabilities with their MGI Meteor DP8700 XL.
The team of direct mail experts at Naples Print Source have been producing Fortune-500 caliber marketing collateral for over 30 years for smaller, locally-based companies and non-profits. Industry expert and owner, Blase Ciabaton has taken Naples Print Source to new heights since taking over in 2013. Dedicated to providing the right solution, Ciabaton and his Naples Print Source team are committed to providing custom print options to meet each customer's individual needs.

Wanting to grow their business while maintaining a high level of quality, Ciabaton began evaluating different digital solutions. After providing his own files and paper to test on several digital solutions, Ciabaton decided to invest in a Meteor DP8700 XLwith the help of Advanced Print Technologies, a MGI certified Elite Dealer.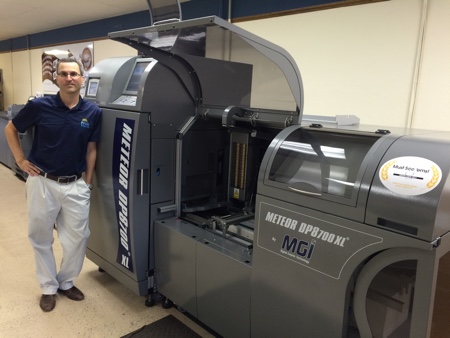 Pictured above is Blase Ciabaton, owner of Naples Print Source
"The Meteor XL stood out among the other digital solutions we looked at," stated Ciabaton. "Not only was the quality unsurpassed, but we liked the 'no-click charge' model and the flexibility to work with different substrates. We can run whatever size we want and not have to worry about click charges."

"Once the Meteor XL was installed we ran a super format piece that no one else in our market can do without a large offset run," continued Ciabaton. "This sample got us in the door of a very large client and we ended up doing the largest mailer in our 34 year history. We are beyond excited for where the Meteor XL is going to take us. We didn't buy the Meteor XL for the super format capabilities but it is now a new growth area for our business."

"Prior to having the Meteor XL we had to outsource full color envelopes and run addresses separately. Now we have the flexibility to print full color envelopes and address them simultaneously right alongside our offset process," finished Ciabaton. "Since installation we have significantly decreased the percentage we outsource, saving us time and money. The Meteor XL is now our primary business machine, it is not just a specialty machine. We run 85% of our jobs on it, we would be out of business without it."