The appointment of Nikolaus Nowak to Customer Service and Logistics Manager at Kornit Digital Europe completes the quartet that now makes up the experienced leadership team at the company's Düsseldorf head-quarters. With more than two decades of experience in a similar role, Nowak joins the leading digital textile printer manufacturer following six years with Heidelberg's Mexican subsidiary where he was responsible for more than 100 field engineers.
Nowak joins Managing Director, Wilfried Kampe, and Oliver Luedtke who is European Marketing Manager of Kornit Digital Europe. The fourth member of the leadership team is Monika Morck, Head of Accounting, who has been in the role for the past twelve months.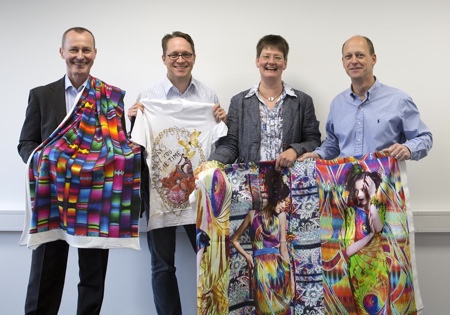 From left: Wilfried Kampe, Oliver Luedtke, Monika Morck and Nikolaus Nowak make up the leadership team quartet at Kornit Digital Europe
"Nowak's track record in the service, and his fluent German, Spanish and English, make him an ideal fit and a valuable addition to the Kornit organisation," states Kampe. "His experience also qualifies him for the challenging task of structuring and establishing standard procedures in the areas of customer service and logistics at Kornit Digital Europe, a prerequisite for the future growth of the subsidiary."
Kornit Digital Europe was founded in 2010 to support the growing demand for the company's direct-to-textile printers and its move into the industrial market with the Kornit Allegro roll-fed machine. During the past three years, it has developed into a fully-grown service, sales, marketing and logistics hub for the European market, inline with support for further expansion. As a result, it is now closer to the specific demands of the region, generating faster response times and simplifying logistics and distribution for resellers.