Schaumburg, IL - Anticipating continued high demand and sales growth for its solvent ink packaging products, INX International Ink Co. announced today it will build a new 62,000 square-foot facility in Lebanon, Ohio. A formal ground breaking ceremony involving INX, local government and State of Ohio officials will be held at the site on Thursday, December 5 at 10 a.m.
The new building will be located in the 752 acre Lebanon Commerce Center business park. It will replace a smaller property INX currently operates about 25 miles away in Blue Ash, a suburb of Cincinnati. Besides solvent ink packaging products, INX will also manufacture three-piece metal decorating, UV/EB and some water-based flexographic ink products in Lebanon.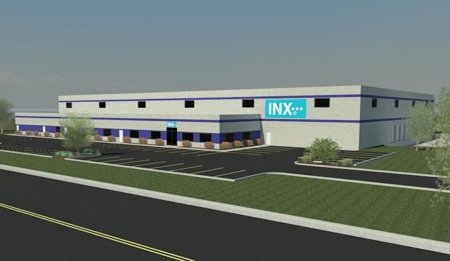 In addition to manufacturing space, INX plans to construct a full service laboratory for color management and development, and for Quality Control and testing purposes. When completed in the fourth quarter of 2014, it will house 33 employees to start.
"Our team has worked diligently on this project for two years. When we evaluated our facilities and our ability to increase capacity and efficiencies, we determined the best way to service the market going forward was to construct a new plant," remarked John Hrdlick, Chief Operating Officer of INX International Ink Co. "The site in Lebanon is a terrific location with easy access to Interstate 71, and it provides us with an opportunity to expand the plant up to 90,000 square feet in the future."
The Schueler Group of Companies represents the land owners and is the developer of the Lebanon Commerce Center, where the INX International Ink Co. site is located. An affiliate, Bunnell Hill Construction Company, Inc., will serve as general contractor for the project.