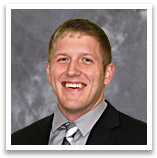 COLUMBUS, OH - Continued growth and future development of its client base have led Hopkins Printing to expand its sales team.
Hopkins Printing recognized that an additional consultant was necessary to keep pace with the company's growth potential after the addition of several pieces of new equipment during the past couple years. The company is proud to welcome and introduce Tyler Maddox. Maddox comes to Hopkins right out of college with a Bachelor's degree in Business Administration and his MBA from Ohio Dominican University. "Tyler possesses the proven, successful sales attributes of drive, energy, creativity and competitiveness - all things you cannot teach," noted Michelle Waterhouse, director of Human Resources. He is currently completing an intense training program, working in all areas of the plant, to learn the company's capabilities and operations.
Maddox is originally from Indian Lake, Ohio and played college football at Ohio Dominican. He brings experience in sales from his time at Digital Scout in Columbus. Maddox, who considers himself to be a very ambitious person, plans to bring success to Hopkins by being a go-getter, being creative and providing marketing solutions for his customers.
"We are pleased to have Tyler join our staff, and are confident that his addition will be an asset in both developing Hopkins Printing as a whole and in meeting our clients' individual needs," said Roy Waterhouse, President.