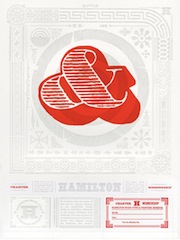 Two RIvers, Wis. - During the 2013 annual Wayzgoose type conference, Hamilton Wood Type and Printing Museum announced an initial public offering (IPO) to join the Hamilton Museum Charter Members. To commemorate the museum's relocation within Two Rivers, Wisconsin, a series of limited edition "IPO Certificates" are available for Hamilton Museum Charter Members.
French Paper Company donated the paper to create this series of 29 typographic prints, letterpressed by Studio On Fire. Designed by Charles S. Anderson Design Co., each IPO Certificate is printed on French Pop-Tone Whip Cream heavyweight 140-pound paper. The 9x12-inch sheet features a deep tinted emboss of design elements from Hamilton's vast library and bears the impression a single letter from the museum's collection. Along with the letterforms, three additional ampersands are available to allow interesting combinations for framed displays.
Hamilton Museum Charter Memberships and IPO Certificates may be purchased for $100 each at the museum's website. Charter members may keep the certificates or share them as gifts. The "shareholder" will have access to special events and benefits at the museum.
Benefits include a two-year membership, attendance and participation in a shareholder's meeting at the museum, discounts in the museum's online store, the opportunity for pressroom rental and a monthly newsletter. In addition to invitations to attend Hamilton Wood Type and Printing Museum's events, charter members are welcome to tour the French Paper mill in Niles, Mich.
"From opposite sides of Lake Michigan, the French Paper and Hamilton Wood Type Companies share a legacy that reaches all the way back to the late 1880s," says Brian French of French Paper. "We extend a heartfelt thank you to everyone who has volunteered and supported the museum through this transition and on to this next chapter."
Hamilton Museum Charter Memberships are only a part of the museum's Sustainer's Fund, which plans to raise additional funds for the museum's future success. The dollars raised also support essential facility updates to the newly purchased building at 1816 10th Street, Two Rivers, Wisconsin. Contributions of time and money may be made online.