The Ipex 2014 360 Committee met with Ipex event organisers in London last week to discuss plans for the event (24th – 29th March at ExCeL London). The committee deliberated the best ways to combine the event's features and robust content programme to ensure maximum visitor engagement and benefits, in addition to the wealth of technologies that will be showcased by exhibitors.
Amanda Lovelock, Print Specialist, Special Products & Materials Group at Honda Trading Europe Ltd, comments: "For specifiers and marketers, Ipex will provide the opportunity to see and hear about the latest print applications and opportunities, and how it fits in with multi-channel marketing campaigns. I look forward to seeing features like Inspiration Avenue and Future Innovations that promise to deliver a host of ideas and takeaways that can be put into practice."
"Ipex 2014 will offer something for anyone involved in some shape or form with the print industry – whether they're a print business owner, sales manager, specifier or press minder," comments Roger Pitt, Managing Director of Headley Brothers. "With such a wide range of educational and thought leadership sessions to tackle the real issues and trends in the industry today, coupled with the newest and future technologies, Ipex 2014 promises to add real value to any printer's business, making it an event not to be missed."
Patrick Martell, St Ives Chief Executive and Ipex 2014 President, concludes: "With five months to go until Ipex 2014 opens its doors at London ExCeL , the Ipex 360 Committee has provided the organisers with invaluable input to ensure the fundamental preparations and plans are in place to make it the industry's must-attend event next year."
The next Ipex 360 Committee meeting will take place in December 2013.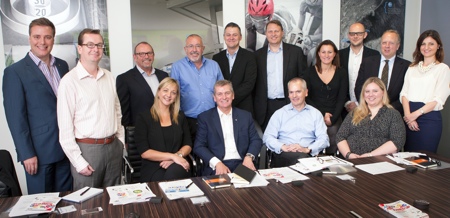 Back – from left to right: Andrew Thornhill (Informa Exhibitions), Scott Logie (St Ives), Norman Revill (York Mailing and Pindar), Richard Allen (AD Communications), Jon Bailey (ProCo), Malcolm Lane-Ley (Anton Group), Ruth Clougherty (Informa Exhibitions), Tim Ainsworth (Communisis), Roger Pitt (Headley Brothers), Angelina Stojsavljevic (Informa Exhibitions)
Front – from left to right: Elni Stofberg (AD Communications), Trevor Crawford (Informa Exhibitions), Patrick Martell (St Ives), Amanda Lovelock (Honda Trading Europe Ltd.)