He's continuing to sell anilox rolls & support technical sales for international & domestic markets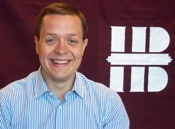 ROSEVILLE, Calif. – Harris & Bruno International announces Sean Tobler will now be the main point of contact for customers in the Northeast United States.

Sean is available to visit facilities and demonstrate first-hand how H&B's innovative and high quality equipment answers printers' needs.
Since hired in February 2012, Sean has been helping customers purchase the right consumables and spare parts so that Harris & Bruno equipment continues to be the dependable inking and coating equipment on a press. Along with this new role, Sean will continue to lead anilox roll sales and provide technical support for international and domestic markets.
"I look forward to serving our diverse customer base in this new role, while continuing to grow our core product mix, both domestically and abroad," Sean said. "The knowledge gained in my past role will allow for a unique perspective of adding value to our customers' operations."
Scott Michels, Harris & Bruno Vice President of Sales & Marketing, is looking forward to Sean continuing his anilox roll work, as well as growing in his new role.
"Sean has been a great member of our team the past two years," Scott said. "He has a passion for the industry and has shown a commitment to learning the details of how Harris & Bruno equipment compliments the customer base we serve. Spending more time in the field will surely help to develop his career and industry knowledge moving ahead. He is a professional, helpful person whom I know our Northeast customers will welcome."