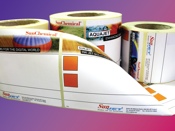 MIDSOMER NORTON, UK - SunJet®, the global inkjet division of Sun Chemical and its parent company, DIC Corporation, is pleased to announce the introduction of Low Migration UV inkjet inks for the non-food contact side of primary food packaging.

The SunJet LM inkjet solution complies with the required components listed in Annex 6 of the Swiss Ordinance, Nestlé standards on materials in contact with food and Nestlé Guidance note on packaging inks.

This low migration inkjet technology has also been designed so that it can be utilised on a wide range of media such as PP and PE in the label sector, foil for food and pharma applications, and heat sensitive films for shrink sleeves, including an opaque white allowing for the use of clear substrates.

SunJet, as part of Sun Chemical is an active member of EuPIA and has formulated and manufactured this technology in accordance with their guidelines and the Good Manufacturing Practice (GMP).

SunJet has utilised its leading position in the development and manufacture of packaging inks to provide this dedicated five colour UV inkjet ink set to lead the market and meet industry standards.

The new SunJet LM ink technology will be showcased for the first time on the Durst Tau 330 at Labelexpo 2013, at the Durst stand 9H57 in Hall 9, taking place in Brussels between the 24th-27th September.

SunJet will have examples of the LM ink chemistry printed and available to view on Sun Chemical's stand 5E80, Hall 5 at Labelexpo.

SunJet Global Product Manager, Rick Hulme, says: "SunJet has worked in partnership with Durst on a vision to deliver a state of the art UV inkjet chemistry to the food packaging market. Our ambition was to establish a unique solution to lead the market and meet the challenging legislation of this sector. We are therefore extremely pleased to be able to announce this as the latest addition to the SunJet product portfolio at this year's Labelexpo."