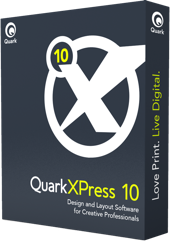 New State-of-the-Art Graphics Engine, Retina Display Support and more than Fifty Feature Enhancements Mark Significant Modernization of QuarkXPress

DENVER, CO – Quark announced today that QuarkXPress® 10, the newest release of Quark's page-layout and design software, is now available to purchase directly from Quark through the online Quark Store, Quark Telesales and Quark Authorized Resellers.

QuarkXPress 10 is new inside and out for designers who love print and live digital. Designers will benefit from:
Modern Architecture: QuarkXPress 10 is a native Cocoa app that leverages the latest OS X features, offers maximized performance and can rapidly support new OS X releases.
New Quark Xenon Graphics Engine: The state-of-the-art graphics engine renders rich PDFs, Photoshop and TIFF images and uses its Adaptive Resolution feature to deliver designers the most appropriate onscreen resolution in real-time.
HiDPI and Retina Display Support: Every element of QuarkXPress 10 has been optimized to take full advantage of high-resolution Retina displays like those found on the Mac Book Pro.
Advanced Digital Publishing Options: QuarkXPress 10 continues to support ePub and Kindle, as well as out-of-the-box HTML5 authoring for App StudioTM, the leading cloud-based solution for creating iOS, Android, and Web apps.
QR Code Creator: Generate, style, and color vector Quick Response (QR) codes directly within QuarkXPress.
East Asian Typography: Now every edition of QuarkXPress 10 supports East Asian typography, including vertical story text, phonetic text reading (rubi) font sets, character grids and more.
More than Fifty Feature Enhancements: PDF Pass-Through Transparency, Print Preview, Bezier Tool Enhancement, Layers Enhancements and much more.
A complete overview of QuarkXPress 10 is available here: www.quark.com/10.

"Details matter more than ever for today's designers. We set out to modernize QuarkXPress 10 – not just technologically, but from a usability perspective too. Every update and new feature will offer designers more precision, more flexibility and a more intuitive design space," said Gavin Drake, Vice President of Marketing, Quark Software Inc. "Though a behind-the-scenes element of QuarkXPress 10, the new Xenon Graphics Engine won't go unnoticed, especially for designers working on highly graphical projects. It will set a new bar for how designers view the images they work with every day."

Pre-orders and Buy 9, Get 10 Offers
QuarkXPress 9 customers who pre-ordered QuarkXPress 10 will receive upgrade information directly by email. QuarkXPress users on versions 3-8 who upgraded to version 9 through the Buy 9, Get 10 promotion should make sure they have completed the online redemption form: www.quark.com/Buy9Get10. Customers who have already completed the redemption form do not need to do so again and will receive upgrade information by email soon.