First job off the printer is a 10,000 ft2 sign overlooking downtown Houston
FOSTER CITY, California - EFI™, a world leader in customer-focused digital printing innovation, today announced that Houston-based visual communications and graphics manufacturer Foxmark Corporation has installed its third EFI VUTEk® superwide format printer – a 3.2-meter VUTEk GS3250 Pro UV flatbed/roll printer installed with a new EFI Fiery® proServer.

Almost immediately after completing the installation in mid-July, the company hit the ground running for the printer's very first job: a 50x200-foot sign from the Houston Rockets to welcome the basketball team's newly signed superstar center, Dwight Howard.

Foxmark's fast response to a free-agent signing

"There is a lot of excitement about this signing in Houston and the
installation is in a highly visible space along Interstate 59, so we were glad when we learned about the job," said Foxmark's president and founder, Richard Fox. "We knew we wanted the added capacity and speed we could get with the 3.2-meter, UV VUTEk printer, and installation went smoothly enough that we could meet a tight production deadline."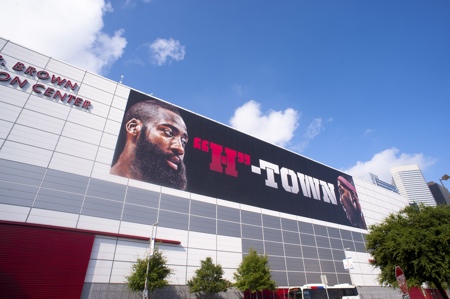 Foxmark started printing panels for the sign in Fast-4™ production mode on a Monday evening. The following morning, an installation crew began installing the panels using two 120-foot boom lifts. Foxmark continued printing while the installers worked.

The sign, which features an image of Howard and teammate James Harden, took approximately three days to print and install. It was completed just weeks after Howard signed with the team, and local basketball fans could not help but take notice. One basketball blogger joked that, "You'll find [the sign] adorning the side of Houston's George R. Brown Convention Center, but it also might be visible from anywhere in the Northern Hemisphere if you look in the right direction."

Leading-edge technology to address new business opportunities in print

In addition to being an official graphics provider for the Rockets, Foxmark produces out-of-home, point-of-purchase, in-store retail, architectural and fleet vehicle graphics for national consumer brands, as well as for leading firms in the oil and gas industry. The new VUTEk GS3250 Pro helps Foxmark meet growing demand from these clients for fast-turnaround, high-quality, UV curable inkjet graphics.

Foxmark has had an all-VUTEk production operation for nine years: In addition to the new printer, the company also operates a 2-meter EFI VUTEk QS2000 printer and an EFI VUTEk 3360 printer. The company used its VUTEk printers to complete several additional highly visible, tight-deadline installations featuring Dwight Howard this summer, including new graphics installations adorning the Rockets' home arena, Toyota Center.

Fox said he uses EFI VUTEk printers because of their proven reliability. Plus, he added, "EFI stays ahead of the curve when it comes to technology and support."

Foxmark has also used 3M products exclusively since it was founded 18 years ago and is one of 23 authorized 3M Scotchprint® graphics manufacturers in the country. The company completed 3M™ MCS™ Warranty certification and prints all of its graphics using 3M media and co-branded EFI VUTEk 3M ink, ensuring that its output is eligible for warranty coverage.

EFI printer and server combination creates a competitive advantage

The 3.2-meter EFI VUTEk GS3250 Pro UV printer, which prints in eight colors, plus white ink, extends users' capabilities by providing exceptional image quality in resolutions up to 1,000 dots per inch. The printer also offers a broad color gamut and fast production speeds up to 2,400 ft2/hour. With the new printer, Foxmark is more competitive on a wider range of premium jobs, including exhibition graphics, banners, posters, fine art and point-of-purchase work.

A variable-drop grayscale feature on the printer helps extend users' reach into more lucrative, higher-volume jobs at a lower total cost of ownership. And, EFI's unique, three-layer white capabilities on the VUTEk GS3250 Pro offer the added benefit of superior imaging on high-impact, backlit displays.

Foxmark's new Fiery proServer includes a parallel-processing production RIP and comprehensive color management tools, as well as default media profiles, pre-installed presets and other features that make it easy to create automated workflows. As a result of the Fiery proServer installation, "Our RIP speeds have increased dramatically," said Fox.

The proServer's seamless JDF integration with Foxmark's VUTEk printers also gives the company the power to accurately manage important printer and media-related settings like printing mode, carriage speed, curing and shutter modes while providing real-time printer status, job status and consumable usage updates.

"Richard Fox and his team will stop at nothing to deliver the very best to their customers, so it means a lot to us that Foxmark relies on EFI to produce high-quality, quick-turnaround work," said Scott Schinlever, senior vice president and general manager of EFI's Inkjet Solutions. "The first job Foxmark created with its new VUTEk printer is a highly visible, buzzworthy ad that exemplifies how printing companies use our technology to enhance and promote their clients' brands."

EFI is featuring VUTEk GS Series printers and Fiery server and workflow products at North America's largest graphic arts tradeshow, Print 13, in Chicago's McCormick Place Convention Center, September 8-12. For more information about EFI products, visit www.efi.com or contact 800-875-7117.