Seven-Color, Short-to-Medium-Run Platform is Company's 1st Digital Label Press
LIENZ, Austria – Durst, the leading manufacturer of industrial digital printing platforms, announced today that Europe's largest label printer, Rako Etiketten GmbH & Co. KG in Witzhave, Germany, has ordered a Durst Tau 330 UV Inkjet Digital Label Press – its first UV inkjet digital label printing platform.
Rako Etiketten operates more than 80 printing lines across production sites in Europe, Asia and South Africa, and is reportedly the biggest user of digital offset printing in Europe. The company chose a 13-inch-wide version of the Tau 330, equipped with seven color stations (CMYK, white, plus orange and violet), after extensive testing, Durst said.
The Tau 330 is designed for short- and medium-run narrow web applications, covering widths from 6.5 to13.0 inches and running at print speeds up to 157 ft./min. (48m/min.), even with the seven-color configuration, while delivering sharp, accurate image reproduction. Production capacity can reach 10,225 square feet per hour with best-in-class print quality. The capabilities of Durst's Tau 330 translate into remarkable flexibility, productivity and operational efficiency for smaller label jobs. The Tau 330 is also available in an 8-inch-wide version.
Jacob Steeger, Chief Sales Officer for Rako Etiketten, said the company will employ the Tau 330 to produce typical inkjet label applications efficiently and economically, as well as develop new applications made possible by Durst's cutting-edge digital imaging technology.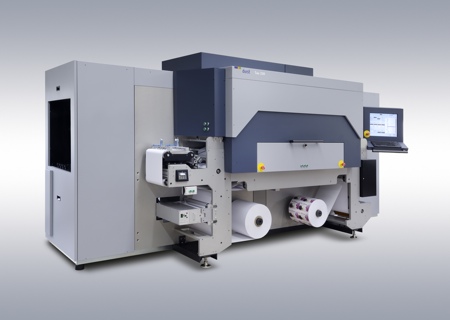 Rako Etiketten's choice continues a positive trend in market penetration of the Tau 330 in the high-volume, high-quality narrow web printing market in Germany, according to Durst. The company's latest roll-to-roll UV inkjet digital label press made its début at the Drupa 2012 trade show in Düsseldorf, and has since been installed at a number of label converter and industrial printing locations in Europe and the United States.
The Durst Tau 330 UV Inkjet Digital Label Press will be on display and demonstrated at Label Expo '13 in Brussels, Belgium, September 24-27, in the Durst booth (#9H57).
For more information about Rako Etiketten GmbH & Co. KG, its products and services, visit the company's web site at: http://www.rako-etiketten.com.