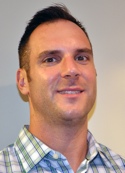 Toronto, Canada - Drytac®, an international manufacturer of adhesive-coated products, is pleased to announce the appointment of Paul Filippelli to the Drytac® Canada team as National Sales Manager.
Filippelli's hiring comes on the heels of Drytac®'s recent acquisition of Multi-Tac Inc., a Toronto-based adhesive coating company. Previously employed with Multi-Tac as Vice President of Sales, Filippelli has extensive knowledge of industrial and specialty label coatings as well as custom and contract coating for the graphic and sign industry. He also holds a BA in Social Studies (Labor Studies) from McMaster University in Hamilton, Ontario.
In his new role, Filippelli will be responsible for the sales and marketing efforts of the combined Drytac® and Multi-Tac Group in Canada.
"During Paul's tenure at Multi-Tac, he established business relationships, developed strategic growth plans and increased sales in the graphics and signage market through value-added services," notes Richard Kelley, Drytac® Chairman & CEO. "By bringing Paul onboard, we will be able to nurture existing Multi-Tac customer relationships and solidify Drytac® as a reputable supplier of custom coating solutions."