Students from the Stuttgart Media University complete practical semester in China
It's a tradition for Flint Group to promote young individuals with talent in the printing industry. That's why the company offers apprenticeships at many of their sites and provides guidance to trainees and students with their bachelor or master thesis. Cooperation with schools and universities are cultivated worldwide. For example, Flint Group has enjoyed a close partnership with the Stuttgart Media University for decades, where diverse joint projects are realised. Last year, for instance, the German Scholarship Award was presented to Yvonne Lechner.
Now, Yvonne can complete an internship at Flint Group Flexographic Products in Shanghai, together with her fellow students, Michael Kyburz, Benedikt Tuchel and Katja Schumacher. The four are students of the German-Chinese double degree program for printing and media technology. This globally unique course leads in seven semesters to a double degree as an engineer-bachelor of the Stuttgart Media University (Germany) and the Xi'an Technological University (China). Advanced knowledge of printing and media technology as well as of the Chinese language are taught in this degree program.
The four students obtain comprehensive market and product information during their ten week internship at the Flint Group site in Shanghai. They learn how to produce and process nyloflex® and nyloprint® printing plates. Additionally, they can become acquainted with the different types of equipment and put into practice their knowledge gained at the university with project work. At the end of July, the students will return to Xi'an to continue their course of studies there.
"The double degree program is particularly attractive for us, as it offers an interesting combination of technology, language and culture", states Yvonne Lechner. Michael Kyburz, Katja Schumacher and Benedikt Tuchel add: "We are really pleased that we have the chance to absolve our internship at a well-known and innovative company like Flint Group, and to live in a modern and vibrant city like Shanghai at the same time. We hope that we can use the time to get an insight into the Chinese printing industry and to deepen our knowledge of flexographic printing".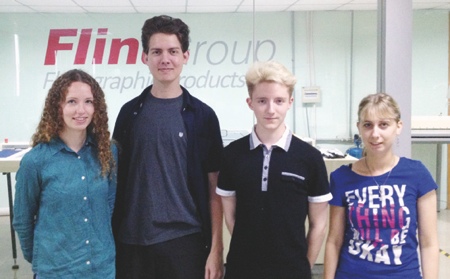 Katja Schumacher, Michael Kyburz, Benedikt Tuchel and Yvonne Lechner are pleased to receive so many information from Flint Group Flexographic Products, in Shanghai.