POLAR organizes its LabelDays 2013 parallel with the LabelExpo held in Brussels. From 23 to 27 September, customers will have the opportunity to go to Hofheim and inform themselves about the latest solutions to streamline their label production.
They will see both, systems for producing square-cut and die-cut labels, as well as systems for securities printing. Please feel free to contact your local sales partner to make an appointment for your visit. The following equipment will be shown:
LabelSystems DC-11 and DC-11plus
DC-11, as well as DC-11plus provide a highly-automated in-line production of banded die-cut labels with minimum staff. Of course, they ensure ultimate square and die-cutting precision. While the DC-11 reaches an output of 960 packs per hour, the DC-11plus model increases the performance by up to 37.5% and reaches a fabulous 1,320 packs per hour.
POLAR LabelSystem SC-21
The SC-21 provides maximum efficiency in square-cut label manufacturing, because production steps are carried out in parallel mode. In this way, up to 3,185 packs are produced per hour with minimum staff. The automatic cutter POLAR Autocut 115 is the key component which ensures utmost cutting precision due to the lateral and front gauges.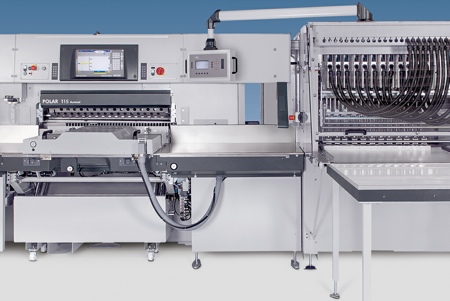 POLAR LabelSystem SC-25
Maximum efficiency and cutting precision characterize also the SC-25 model. Two gangs of strips can be processed simultaneously and help to obtain new performance dimensions of up to 1,560 packs banded in 60 minutes. It is designed as a modular system especially for industrial manufacturing of minimum-size labels. Therefore, it can be adapted to the different customer requirements.
POLAR High-Speed Cutter N115 PRO TwinClamp
TwinClamp was especially developed to meet the demands of the securities printing sector. This specialized cutting machine is able to compensate height differences in the cutting material and allows to work with a higher clamp opening and still obtain a uniform cutting precision.