Mittelhessische Druck- und Verlagsgesellschaft (MDV), a German media house in Giessen known for its high quality print products, secures its future with the largest investment in company history.
At the end of May the highly automated Commander CT from Koenig & Bauer (KBA) was officially inaugurated in the presence of numerous guests of honour, among them prime minister of Hesse Volker Bouffier. The press line has been in operation for about a year at the family-run company in the third generation. This investment in new printing and mailroom kit is proof of the company's "entrepreneurial courage", said Bouffier, and it sends outs "a strong signal for the successful future of the company and the region."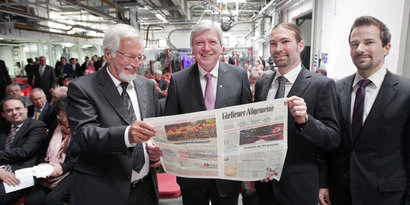 At the end of May 150 guests celebrated the official inauguration of the new KBA Commander CT in the printing hall at Mittelhessische Druck- und Verlagsgesellschaft in Giessen, Germany. Volker Bouffier prime minister of Hesse congratulated MDV's managing directors Dr Christian Rempel (l), Dr Jan Eric Rempel (2nd right) and Dr Max Rempel (r): "You can be proud of nearly 70 years of great entrepreneurial and publishing achievements over three generations." (2) Photo: Oliver Schepp
Print scores points with independence and accuracy
"We believe in the future of newspapers – both in printed and electronic form", MDV managing director Dr Max Rempel emphasised at the celebratory event. He went on to say that of course the media industry is changing seeing as newspapers are competing with global companies, such as Google and Facebook, for advertising revenues and readers' attention. However, he believes that nothing has changed with regard to the basic functions of newspapers. Mr Rempel feels it is still key to supply the general public with independent information, to explain and classify complex topics as well as to uncover wrongdoings in society from a critical point of view. In this globally-networked world these media which "do not sacrifice accuracy for speed" are important. "Local and regional newspapers will be successful in the future if they keep their identities", said prime minister of Hesse Volker Bouffier in his speech at the event.
When referring to the project, MDV managing director Dr Jan Eric Rempel said: "The inauguration of this new high performance and considerably more environmentally-friendly press in our new press hall was handled very professionally. With its advanced level of automation and superb full-colour quality the Commander CT has significantly enhanced our product profile, their presentation and cost efficiency."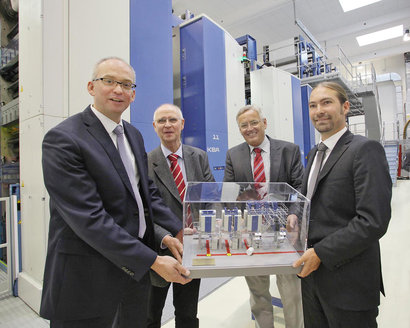 MDV managing director Dr Jan Eric Rempel (r) and Otmar Buß (2nd right) technical director at MDV are pleased with the enhanced productivity and quality offered by the new KBA Commander CT. Pictured here: KBA sales director Alexander Huttenlocher (l) and Peter Müller (2nd l) from KBA presenting a model of the press (1) Photo: Oliver Schepp
The region's leading media brand …
Every night about 55,000 copies of the regional titles Giessener Allgemeine, Alsfelder Allgemeine and Wetterauer Zeitung are printed in Berliner format on the KBA Commander CT. The company's own newspapers reach some 185,000 readers on weekdays in a region extending from Alsfeld via Grünberg, Giessen, Bad Nauheim, Friedberg to Bad Vilbel, north of Frankfurt. In addition to these newspapers and diverse supplements, such as the monthly event magazine Streifzug, the company prints various frees and contract titles amounting weekly to over one million copies. The media house's informative capabilities are also evident on its website, which has central Hesse's biggest appointments section.
… invests in future-orientated printing technology
The new compact web press with three Pastomat reelstands, three compact printing towers and a KF 5 folder can print up to 50,000 48-page full-colour newspapers per hour. Extensive automation in the paper logistics, plate changing, production planning, presetting, operation, control and monitoring ensures that the KBA Commander CT prints with maximum productivity and cost efficiency. Equipped with facilities for half covers and ribbon stitching, the press supports the production of eye-catching print products and special ad forms.