(See below for special commentary by Cary Sherburne)
Studies show print and new media are mutually supportive when strategically combined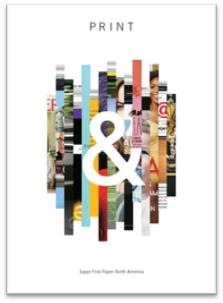 BOSTON– Sappi Fine Paper North America announced today the debut of Print &, an insightful publication highlighting the interrelationship between print and digital media. Rather than being at odds, Print & highlights persuasive study results showing how print drives return on investment (ROI) when used in combination with alternative media to create effective integrated campaigns. Through independent research and compelling examples, Print & explores data on demographic preferences, emotional triggers as well as shopping behaviors that show how print creates an interactive, visually intriguing and tactile experience. As an executive sponsor of HOW Design LIVE 2013, Sappi Fine Paper North America will be debuting Print & at this year's conference taking place in San Francisco on June 22-26.
Download Print & (PDF 5.6MB)
"For the past decade, the increase in digital advertising spend has led to assumptions that print would soon reach its demise, however, industry studies show that the opposite is true," says Patti Groh, marketing director, Sappi Fine Paper North America. "The fact of the matter is that while this industry is constantly evolving, print and digital are proving to be mutually supportive, and brand marketers are learning to play to the strengths of each."
Today's Marcom managers, ad planners and publishers have well over 100 media platforms to choose from – the growing majority being digital.[1] According to a neuroscience study referenced in Print &, however, print ranked as one of the highest mediums for emotional impact because the physical act of handling tangible material feels more "real", triggering emotional reactions which leave a "deeper footprint" in the brain. [2]
Based on these findings, conclusions can be drawn that the brain associates the tactile quality of a printed piece with its perception of the brand; which explains why print remains a key medium for marketing campaigns that target high-end, high-value products or services. The millennial generation is also more receptive to print than some might expect, where among 18 to 24 year olds, 69 percent now say they prefer print and paper communications to reading off a screen.[3] As shown in case studies and examples illustrated in Print &, when marketers strategically leverage a combined approach of print and other media, it can produce the greatest return of marketing impact on dollars spent.
"The design industry has reached a turning point, and we are no longer constrained to only one platform versus the other," said Kit Hinrichs, Principal and Creative Director, Studio Hinrichs. "With innovations in printing and developments in new technology, we are now able to transcend the traditional method of thought and can truly start projects thinking in terms of the possibilities, not the limitations."
The development of Print & reunited Sappi with designer Kit Hinrichs of Studio Hinrichs and writer Delphine Hirasuna, editor of @Issue Journal, who have collaborated on previous notable Sappi educational pieces, such as The Standard series.
Through the use of QR codes and augmented reality, print and new media merge into one, generating endless possibilities for the future of print and consumer interaction. Showing this interplay in Print &, Sappi has developed 10 unique print and digital experiences – ranging from a game of pool to a trip on historic Route 66 – that readers can enjoy when downloading the free Junaio AR browser application to access the AR overlay in Print & on their mobile device.
Print & was printed on Sappi's McCoy, a premium coated sheet renowned for its whiteness and unsurpassed printability. More information on the publication can be accessed on our website Print & page. If a Sappi customer, to request an exclusive copy of Print &, please contact your local Sappi sales representative. For media inquiries, contact Joanna Rieke at the contact details below. To keep up with Sappi at HOW Design LIVE 2013 and get updates on all Sappi news, follow on Twitter at @SappiNA and enjoy the company's Facebook page.
[1] Patrick Quinn of PQ Media, as reported in Media Post News, January 2012
[2] Millward Brown case study "Using Neuroscience to Understand the Role of Direct Mail," 2009
[3] Two Sides Study, January 2012
Commentary by Cary Sherburne
Sappi has done a great job of positioning print in the new media mix in this piece. I especially liked the included QR Code that enables fast access to augmented reality features, unequivocally demonstrating how print can be made interactive, linking channels and making it even more fun and valuable for readers. It does a good job of highlighting the benefits of print in the communications mix without being defensive, as so many of these types of pieces can appear and is educational for both marketers and printers. It demonstrates for printers how they can step up to the plate and become a stronger partner in the marketing supply chain as they add these types of capabilities to their service offerings.