Woodland Carbon scheme reduces our company's carbon footprint by creating new woodland
Southend-on-Sea, Essex – Solopress.com, one of the UK's fastest growing online printing companies, are celebrating today's 10th anniversary of Recycle Week (17th - 23rd June) by announcing our exciting new partnership with the Woodland Trust tree conservation charity.
Solopress are now a business sponsor of the charity's Woodland Carbon removal scheme, offering businesses an accredited method of removing harmful carbon emissions from the atmosphere by planting trees and creating new woodland here in the UK.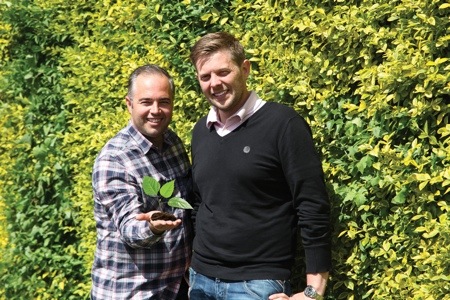 Solopress co-founders Aron Priest and Andy Smith (right)
Over the next 12 months, Solopress have agreed to purchase at least 60 tonnes of carbon captured paper as part of the Woodland Carbon initiative. One tonne of paper purchased by us equates to 14 m2 of new woodland planted and captures ½ tonne of Co2.
"What's good for the planet is also good for our business. Solopress have always gone to great lengths to ensure everything about our company has minimal impact on the environment, while also offering a wide choice of products that meet the environmentally conscious needs of our customers," says Aron Priest, CEO and co-founder of Solopress. "Solopress are impressed by the excellent work carried out by the Woodland Trust, so we immediately signed up to their ingenious Woodland Carbon project as soon as we heard about it."