Mortsel, Belgium - Extending the successful Jeti Titan series of modular UV-curable wide-format printers, Agfa Graphics is launching the Jeti TitanX, which will make its debut at FESPA 2013 in London. Jeti TitanX, with its proven moving table flatbed technology, is designed as a versatile wide format printing platform that caters for both higher productivity and superior print quality with extreme color accuracy.
Configured for the ultimate in flexibility, the Jeti TitanX offers the operator fast switching from four (CMYK) to six-color (high fidelity CMYKLcLm) imaging and back on a job-by-job basis. In both modes it offers the versatility of white ink with eight dedicated white print heads out of the total of 48 configured to generate exceptional levels of productivity.
The only true industrial flat-bed in its class, Agfa Graphics' Jeti TitanX is ideal for the production of close-viewed output such as quality point-of-purchase as well as high resolution backlit applications (day-and-night). Additionally, the printer is designed for high productivity wide-format applications such as general displays.
The Jeti TitanX has a generous bed size of 3.1 x 2m with the table finished to incredibly tight tolerances over the whole surface. It is built on a robust steel frame, complemented by advanced linear motion technology for superior production accuracy. The impact of microscopic variations is further minimized through the Topology Optimization, a powerful set of measurement and jetting compensation algorithms. An optical camera scans the bed to create a topographical map of the imaging area. In the background, the algorithms make velocity compensation calculations to ensure optimized dot placement. The result is a spectacular image quality whether printing uni-directionally or bi-directionally.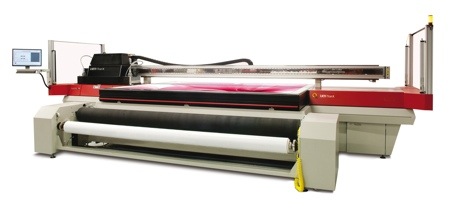 For greater productivity Jeti TitanX utilises Agfa Graphics' fast curing Anuvia UV-curable inks that are designed specifically for high-end production platforms. Anuvia inks offer great resistance to chemicals and abrasions plus good adhesion on the substrate. Their sharp, vibrant colors combine with high fade resistance and excellent lightfastness.
Since the original launch of Agfa Graphics' Jeti Titan the modular range has evolved to incorporate seven different configurations, each based on the same strong technology which has evolved to meet customer requirements. The Jeti TitanX now addresses speed and quality needs, as well as the ability to work with a broad range of rigid and flexible substrates in a choice of print modes, according to the type of application.
The Jeti TitanX is at display at FESPA 2013 in ExCeL London Exhibition Centre South Hall Stand C30S, London 25-29 June 2013