SANDY HOOK, CONNECTICUT – March 13, 2013 – Scodix today announced they have successfully installed and implemented a Scodix S Series press at Curtis Packaging, a leading provider of luxury packaging solutions and a manufacturer of high-quality folding cartons for the most discerning global brands. Curtis purchased the Scodix press after executives saw it in operation at Graph Expo 2012 and the system was shipped directly from the show floor. After only a few months of operating the press, the company is recognizing significant benefits: the machine allows them to create eye-catching projects with new memorable effects, and it provides a new marketing tool that is opening doors for salespeople. For more information, go to www.scodix.com.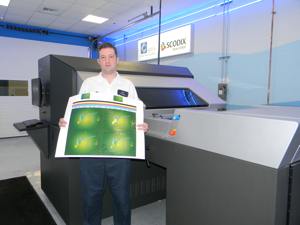 Servicing the Best
Curtis Packaging, a $40 million folding carton company, produces high-end folding carton packaging for customers including major players in the cosmetic industry -- Estée Lauder, Coty, and Elizabeth Arden for instance -- and for products such as Titleist golf balls and Jack Daniel's. Curtis, which is based in Sandy Hook, Connecticut, and has been in business since 1845. For more information, go to www.curtispackaging.com.
"People come back to us for our creativity and our ability to execute extremely difficult packaging," says John Giusto, Chief Operating Officer. "We do the kind of work that many other people are afraid to do or aren't capable of doing. Scodix fits right in with what Curtis is all about—it's a press that is unique and allows us to be creative. There's no limit to what you can do with the Scodix press: the only limit is your imagination."
Projects Stand Out With Unique Effects
One of the first pieces Curtis produced was a unique holiday card for customers that highlighted the Scodix advantages including granite and sparkling effects and raised elements.
"The holiday card was beautiful," enthuses Giusto. "The contrast between glossy, matte, and raised effects provides the best look. We used a foil laminated board as the base and put down two hits of white ink with two hits of matte varnish on top of it. Then we reversed out of those two ornaments. For the red ornament we raised up to the maximum height the machine is capable of and added a high gloss, so it's very rich. And then for the other teal blue ornament we added a sparkling effect. It was very cool and unique."
In response to seeing the holiday greeting, one customer ordered their own holiday card and added unique effects. "It started right off the bat with people asking, 'wow, how did you guys do that?' That's always a good thing when our customers, such as designers, look at the print and say 'wow.' "
The company also printed 100,000 self-promotional pieces (25,000 sheets of 8.5x11 4-up) that were tipped into two magazines in February. The piece uses a four-color process with multiple effects such as glossy solid, vignettes, higher coatings, lower coatings, vignetted coatings, and mezzotint, explains Giusto. "The tip-in will really jump out at you," he says. "It's a bright green and very cool. The press ran flawlessly." The press is ideal for jobs at about 25,000 sheets and under, adds Giusto.