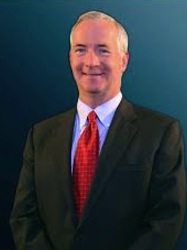 Lexington, Kentucky USA -- WhatTheyThink.com today announced that Kevin Cushing, CEO of AlphaGraphics, was named Print CEO of the Year in the Second Annual WhatTheyThink CEO of the Year Awards process. A qualifying Print CEO must have been in his or her position for at least two years and have demonstrated inspirational and innovative leadership of a printing company that has shown success during his or her tenure. Success is measured by metrics such as revenue or profit growth, corporate transformation initiatives and/or environmental leadership, or other qualifications the nominator deems important. WhatTheyThink received 44 nominations for Print CEO of the Year, up from 30 last year, exhibiting a great deal of industry interest in the award. A panel of industry experts narrowed the list down to the top five, who were voted upon through a survey emailed to WhatTheyThink's exclusive list of more than 1,000 industry CEOs, Presidents and Owners.

"Our congratulations go out to Kevin and the four finalists, three of whom were finalists in 2010 as well. And thanks again to Presstek and New Direction Partners for sponsoring this unique and prestigious industry award," said Randy Davidson, CEO of WhatTheyThink. "Their support has allowed us to provide unique pieces of sculpture to memorialize the award for the Print CEO of the Year and the four finalists. We also want to again congratulate Joe Davis, who was named the CEO of the Year in 2010."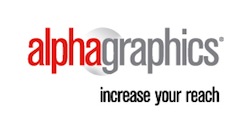 "I am honored to be selected as CEO of the Year," Cushing said. "I ride on the shoulders of the AlphaGraphics network's 260+ CEOs, their teams, and all of my colleagues who have supported the vision for our business. They have invested in keeping AlphaGraphics a vibrant brand for 41 years."

Among AlphaGraphics' accomplishments:
Amidst first major rebrand in the company's 41year history- "Increase Your Reach"
Implementing NetVision4 "The New Now" strategic plan for the network
FY 2011 system sales growth over 7%
FY 2011 same center median sales growth of 4.43%
24 new locations in FY 2011
15 independent conversions in FY 2011
100% renewal rate in FY 2008- 2011– 29 U.S. franchisees who reached the end of their term were invited to renew, renewed their franchise agreements
Location count increased each year through the Great Recession
Over 37% of Network currently realizing double-digit sales growth
Explosive growth in Brazil – over 30% sales growth in FY 2011
15 centers named to Quick Printing's Top 100 list
Finalists for Direct Marketing Association Echo Award 2 years running
The four finalists for the award, in alphabetical order, are:
Carl Gerhardt, Chairman, Allegra Network, Plymouth, MI
John Lacagnina, ColorCentric Corp., Rochester, NY
Joel Quadracci, Quad/Graphics, Sussex, WI
Adam Slutsky, Mimeo, New York, NY
At Graph Expo, Cushing will be featured in the Kodak K-Zone, Monday, September 12th at 10:30 a.m., in a conversation with WhatTheyThink Senior Editor Cary Sherburne. If you are attending Graph Expo, don't miss this opportunity to hear directly from Cushing about the drivers for success that enabled him to win this award and his advice for his peers on how best to navigate the turbulent waters that lie ahead for the industry.


About WhatTheyThink.com
WhatTheyThink is the printing and publishing industry's leading media organization; offering a wide range of publications delivering unbiased, real-time market intelligence, industry news, economic and trend analysis, peer-to-peer communication, and special reports on emerging technology and critical events. Independent studies rank WhatTheyThink as the one industry website that contains the most interesting articles, according to 58.2% of senior printing executives, and the one website most frequently chosen as the "Must Visit and Read." WhatTheyThink also hosts webinars and live events as well as providing content through a syndication program, which delivers content directly to related websites. In addition, WhatTheyThink offers a wide range of lead generation and branding programs that help print- and publishing-related businesses achieve business growth.

For more information about partnering with WhatTheyThink, contact [email protected] or [email protected].

Also connect with us on Twitter, Facebook and LinkedIn.
About Presstek
Presstek, Inc. is a leading supplier of digital offset printing solutions to the printing and communications industries. Presstek's DI digital offset solutions bridge the gap between toner and conventional offset printing, enabling printers to cost effectively meet increasing customer demand for high quality, short run color printing with a fast turnaround time while providing improved profit margins. The company's CTP portfolio ranges from two-page to eight-page systems, many of which are fully automated. These systems support Presstek's line of chemistry-free plates as well as Aeon, a no preheat thermal plate which offers run lengths up to one million impressions. Presstek also offers a range of workflow solutions, pressroom supplies, and reliable service. Presstek is well positioned to support print environments of any size on a worldwide basis. For more information visit www.presstek.com, send an e-mail to [email protected] or call +1 603 595 7000 (North America). Presstek can be located in Booth 3200 at the front of the South Hall at Graph Expo 2011.
About New Direction Partners
Our partners have had a hand in over 200 mergers and acquisitions since 1979. Collectively we have over 100 years of industry experience with transactions in aggregate exceeding $2 billion. www.newdirectionpartners.com