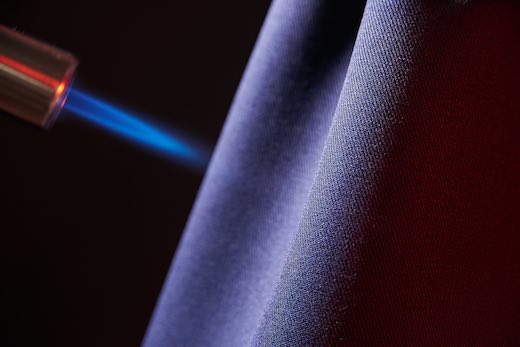 Adlington, United Kingdom: Global flame-resistant fabric manufacturer, Carrington Textiles, has announced its second consecutive presence at the National Safety Council (NSC) Congress and Expo taking place from the 23rd until 25th October in New Orleans, where the company is set to reveal a trailblazing inherent flame resistant (FR) blend for workwear fabrics never seen in North America, while launching its new stretch FR line simultaneously in Europe and the US.
A US first: 50% LENZING™ FR fabric blend for comfort and sustainability
With a unique blend that incorporates 50% LENZING™ FR fibres, Carrington Textiles introduces a truly innovative product that not only offers protection and comfort but also contributes to sustainability.
LENZING™ FR is a sustainably produced inherently flame-resistant cellulosic fibre based on Lenzing's Modal fibre production process. These fibres offer outstanding protective properties while ensuring wearer comfort due to their moisture management attributes.
Oliver Spöcker, Director Workwear & Protective Wear, Lenzing, remarked, "Manufactured using renewable raw material wood sourced from controlled and certified forests in Austria, the premium, responsible LENZING™ FR fibre sets new quality standards in the industry across the globe. With over 45 years of industry experience in FR cellulosic fibre production, Lenzing will ensure Carrington Textiles enjoys the benefits of our fibres that combine performance, comfort, and sustainability benefits in one go. We are proud to be a part of this groundbreaking development and continue to produce unique fibre solutions with protective qualities for industry partners."
This new inherent collection of FR fabrics also includes meta-aramid and para-aramid fibres, imparting outstanding strength to the fabric. This durability ensures that garments made with these fabrics last longer, helping to reduce textile waste.
These new products are set to be part of Carrington Textiles' Flameban inherent FR fabric family and will be exclusively revealed at the company's stand during the NSC event.
Stretching the Flame Retardant Range
Launching at A+A in Germany and at NSC in the US simultaneously, Carrington Textiles is unveiling its new range of multifunctional stretch FR fabrics for a wide range of industries.
Flametougher 290AS Flex and Flameflex 300AS represent the latest additions to Carrington Textiles' flame retardant offerings. These fabrics are engineered for comfort and safety, featuring outstanding stretch properties for wearer comfort.
Flametougher 290AS Flex, weighing in at 8.6oz, is a robust and easy-to-wear flame retardant fabric suitable for workers in refineries, electric vehicle manufacturing, and other high-risk industries. It boasts US accreditations, including NFPA 2112, as well as certifications for chemical splash, electric arc resistance, and antistatic properties.
In collaboration with CORDURA®, Carrington Textiles has incorporated 19.5% of CORDURA® nylon 6,6 into this product to ensure certified strength, along with 78% cotton for comfort, 2% EOL for elasticity, and 0.5% negastat for antistatic protection.
Flameflex 300AS combines full certification for flame retardancy with the comfort and durability of a stretch product. Weighing in at 8.8oz, this fabric incorporates 2% EOL fibres, along with a blend of 83% cotton, 14% polyester and 1% antistatic.
To explore Carrington Textiles' latest flame-resistant fabric range, attendees can visit Booth 1244 at NSC. For those interested in scheduling a meeting with the company's team, please visit the Carrington Textiles' website.