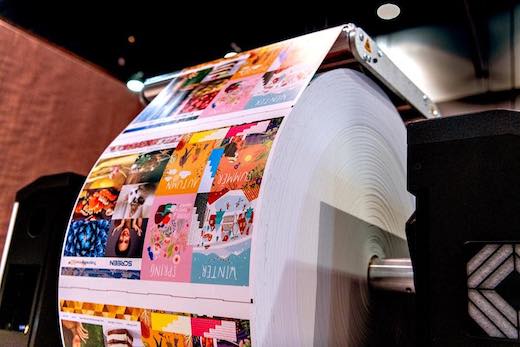 ELK GROVE VILLAGE, Illinois—SCREEN Americas announces its plans to exhibit at PRINTING United Expo in Atlanta, Georgia, October 18–20, 2023. The company, which is celebrating 80 years of service to the graphic arts industry this year, plans to demonstrate commercial and production applications and showcase new solutions for the paper and flexible packaging market.
In booth B2544 will be the Truepress JET 520HD, a high-speed continuous roll-fed inkjet press engineered for commercial, direct mail and publishing applications. Also in the booth will be the Truepress LABEL 350UV SAI, a roll-fed inkjet press that allows for seven colors to produce high-quality labels. Live demonstrations of each press will be available for attendees to observe.
SCREEN Americas also plans to introduce the Truepress PAC 520P at PRINTING United. This digital inkjet press is especially engineered for paper-based pouch packaging and features new water-based pigment ink that complies with food safety regulations. Solutions to the ever-evolving needs of printers servicing the food packaging market will be addressed by the SCREEN team at PRINTING United. Attendees will also be updated with the latest samples from—and timeline for—the Truepress PAC 830F, a packaging press whose ongoing development is designed to meet the last-minute requests of customers in need of standing pouches, gusset bags and center seal packages.
Printed samples from the Truepress LABEL 350UV SAI containing a new solution designed to enhance ink adhesion on challenging substrates will be made available as well as samples featuring Truepress ink NP, a new high-density black pigment ink for the Truepress JET 520NX—technology designed for printers specializing in direct mail marketing.
"This is an exciting year for us," said Mark Schlimme, vice president of marketing for SCREEN Americas. "We always look forward to exhibiting at PRINTING United; with so many new developments, we expect to have a great experience in Atlanta."