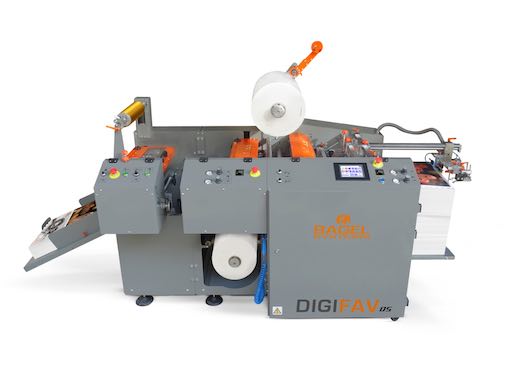 Building on the popular Digifav B2 simplex laminator, Skandacor launches the Digifav duplex laminator for faster two-sided lamination
ROCHESTER, NY - Skandacor is excited to introduce the newest addition to our lineup: the Digifav DS Laminator by Bagel Systems. This machine brings thin gauge two-sided lamination to the B2 sheet size, halving traditional production times. The Digifav DS will be debuting at Printing United in October, giving printers the chance to see the machine run live.
"The Bagel line isn't new to us," remarked Skandacor's Product Development Manager Bob Rowden. "In fact, their existing products have been incredibly successful, including the Digifav single-sided machine which we've installed in print shops across North America. We realized that a common application is duplex lamination with our thin gauge specialty films, and typically that would mean flipping and turning the sheets. So, we launched the Minilam Duplex in the B3 sheet size in 2019, and now we're bringing this to the B2 sheet size with the Digifav DS."
Although eliminating flipping and turning will halve traditional production times, the Digifav DS doesn't stop there in increasing efficiency. Clients will be able to run common digital sizes like 13x19 in the landscape direction, feeding them long side in. This simple change means that they can pick up an additional 30% productivity gain in their finishing processes.
For more information on this machine, visit our booth (B15063) at the Printing United Expo in Atlanta, Georgia.