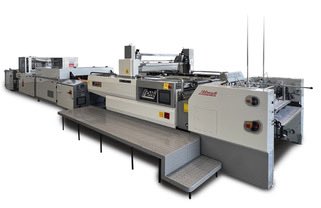 (SCHAUMBURG, IL) Highlighting the Sakurai exhibit at Printing United will be live demonstrations of a Sakurai Maestro MS-80All cylinder screen press equipped with a Sakurai ScreenFoil™ LQM 105 in-line hot foil stamper and a Natgraph Smart UV dryer and stacker.
"Sakurai will be producing a spectacular 20" x 28" six-color screen printed poster with the enhancement of UV tactile spot coat along with two different colored foils applied live during the show hours. Sakurai thanks its partners for their help in the design, ink, foil, and pre-production of the commemorative poster. Pick one up for your office or production area displaying screen printing and unique graphic foil and coating enhancement, said David Rose, Vice President, Sakurai USA, Inc.."
SAKURAI MAESTRO MS-80AII
Sakurai's workhorse MS-80AII cylinder screen press is used for a myriad of industrial and commercial screen printing applications such as packaging, tagless labels, heat applied transfers, pressure sensitive applications, printed electronics, medical and much more. The high productivity MS-80AII screen press accepts sheets up to 21 3/4" x 31 5/8" and operates at speeds up to 3,600 IPH. The Maestro prints on a wide range of substrates such as plastic, film, paper, board and foil with accurate spot coating and special effects.
SAKURAI SCREEN SCREENFOIL™ LQM SERIES OF HOT FOIL STAMPERS
The LQM 76 and LQM 105 ScreenFoil™ Evolution LQM Series present a cost-effective in-house solution for hot foil finishing without the need for dies. Now available in two sizes, the LQM 76, accepts sheet sizes up to 23 1/2" x 22 1/2" and the LQM 105 accepts sheet sizes up to 41 1/2" x 30". The LQM Series brings a new level of flexibility, quality and performance when combined with any size or vintage Sakurai screen press.
"The process of screen printing is at the strength of Sakurai equipment. High speed sheet feed presses in various sizes meets and exceeds the customer's requirements for a multitude of applications. At Printing United, Sakurai will once again demonstrate Screen Foil. The integration of spot UV coating and foil creates new markets for special effects in packaging, credit cards and promotional products. Sakurai's family of high speed screen printing press are widely accepted as the benchmark equipment for off line special effects along with industrial, and commercial graphics produced by this traditional process. Take a look at Sakurai and what screen printing can do for your company's capabilities," Rose added.
Sakurai experts can custom design a fully integrated screen printing, UV curing system with hot foil finishing for your specific requirements. To find out more, contact David Rose, Vice President; [email protected], cell 708.341.9493, office 847.490.9400 x202 or Mike Krotiak, Regional Sales Manager, [email protected], cell (630) 302-6748, office (847) 490-9400 x206.