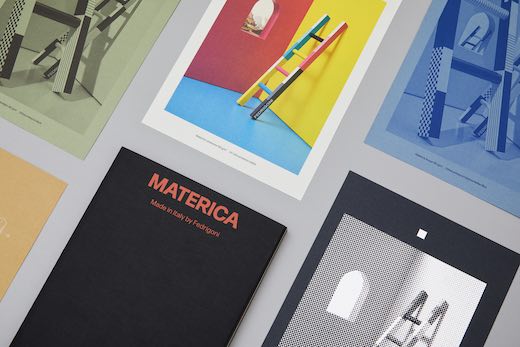 Materica swatch includes four new shades.
Woodstock swatch includes the grammages for folding boxes 350 gsm.
The new colour palettes of Materica and Woodstock align with the latest colour trends which imitate nature (and the human need to reconnect with it).
London, UK – Fedrigoni Group, the leading global producer of specialty papers for premium packaging, publishing and graphics, as well as self-adhesive labelling products, has launched the latest swatches for their ranges of uncoated recycled papers Materica and Woodstock. Both align with the latest colour trends, reflecting the modern need to reconnect with nature.
The latest swatches include additional features not seen before, with the Materica swatch showcasing four new shades, and Woodstock including grammages for folding boxes. The new colour palettes available with both swatches align with the latest colour hues which remain in keeping with the range.
First launched in 2018, Materica has been revamped and is now available in 14 warm shades, all from 120gsm to 360gsm. The distinct bulkiness of the range inspired the name, as Materica is Italian for the English word 'material'.
The pulp-coloured paper and boards are made with a blend of 25% recycled materials, 25% pure virgin fibres, 10% cotton fibres, 40% CTMP fibres, all FSC® certified. The earthy, rustic Mediterranean colours are reflected in the rough texture given by the cotton fibres providing a rich tactile and visual experience, and created to give an elevated feel to both premium packaging and book covers because of its print definition and foldability.
Woodstock - now with a grammage ideal for folding boxes - is a range of uncoated papers and boards, made with 80% recycled waste fibres and 20% FSC® certified virgin fibres. The collection is available in pulp-coloured, soft pastel shades, and unlike Materica, Woodstock is smooth to the touch with a unique retro and nostalgic feel.
Ian Braithwaite at Fedrigoni commented: "Materica and Woodstock have become iconic ranges from Fedrigoni, and we wanted to create greater features for our customers to choose from. Each range offers unique attributes which can be applied across various forms including packaging, menus and books. As we move towards a greener future we're proud that our premium ranges are embracing both virgin and recycled fibres, helping to ensure Fedrigoni remains committed to our efforts and remain experts in the print and paper industry without compromising on our environmental values."
New Woodstock and Materica swatches are available now. To receive a swatch, please contact a Fedrigoni Paper Consultant or visit the website here.