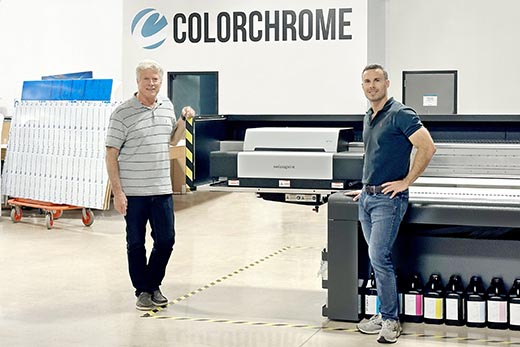 Kudu at Colorchome © swissQprint
Atlanta-based Colorchrome is the first swissQprint US customer to install a swissQprint Kudu flatbed printer, enabling them to combine high precision printing and unique embellishment with high output.
Colorchrome is an art and graphic solutions provider based in Atlanta, GA. Serving clients nationwide Colorchrome is considered a go-to supplier for hospitality, museums, corporations, trade shows, and events. By actively embracing innovation, they consistently meet evolving client needs, adapt to industry trends, and expand the spectrum of what is print possible.
Increasing capacity and versatility
True to this mission, they have invested in the latest swissQprint model, the Kudu high-end flatbed printer. Christian Rhodes, COO of Colorchrome said: "Our business continues to grow, so we needed to add more production capacity at our high standard of quality while continuing to offer new applications and options for our customers' projects at a competitive price." The team processes acrylics, glass, mirrors, metal, fabric and other substrates, and applications include fine art reproductions, photographic printing, wallcoverings, tradeshow displays, and lots more.
Top-notch expectations
Erik Norman, President of swissQprint America stated: "What is special about Colorchrome is its wide range of industry knowledge and commitment to excellence in all aspects of the business. So is their client-first approach to delivering solutions. Only the best technology is good enough."
Colorchrome have successfully operated a swissQprint Nyala flatbed printer for several years. When they started thinking about an additional printer, it was clear that it would be another swissQprint machine. "swissQprint provides reliable and excellent service. Also, they have the highest quality in the market, which is important for us as art printers," Christan explained.
High productivity and quality combined
The Kudu high-end flatbed model is the latest development by swissQprint, and Colorchrome is the first US customer to have received one. Kudu features 10 freely configurable color channels enabling a wide range of applications. This includes texture printing and unique embellishments involving white and varnish, and fine art prints thanks to light colors. Christian said: "We are very excited to be able to offer some of the more niche abilities to our clients, who are looking for something new, special, or different that can still be produced at scale."
The Kudu sports a 127.5×79.9-inch flatbed and the latest print head technology for 1350 dpi precision printing. Its maximum output is 3272 ft²/h. "The combination of high productivity mixed with super high quality makes this the right fit for our business model," Christian concluded by adding, "There will always be someone offering it cheaper, but we are the partner who delivers the top quality product to help our clients, and their clients, stand out above the rest."