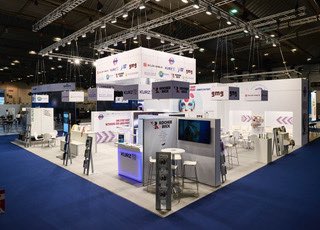 Joint Label Project and Multi Dual Cooler Attract High Visitor Interest

PrintCity Alliance (PCA), Zell, Mosel/Germany—PrintCity Allianz celebrated a successful premiere at Label Expo in Brussels. The joint Label project to showcase environmentally friendly and sustainable finishing of labels and packaging attracted numerous visitors and was very well received - as a complement to the "Multi Dual Cooler" champagne and sparkling wine cooler.
The eight participating PrintCity partners were highly satisfied with the joint presentation. Under the motto: "One Stop Shop Network For Label Print - Always On Point", they were able to sum up their range of services.
Rüdiger Maaß, General Manager of PrintCity, saw a generally positive mood among exhibitors and visitors: "It is important to have a trade show that enables physical touchpoints again. We are already looking forward to announcing our 2025 commitment in Barcelona on schedule.
Statements of Partners
"We were an exhibitor at LabelExpo Europe for the first time this year. Our focus was on the presentation of coatings for the label sector, including IML, LED and excimer products, environmentally friendly barrier coatings, as well as water-based and UV primers. We are positively surprised by the international scope and great popularity that LabelExpo offers and experiences. We were able to hold valuable discussions with long-standing partners and establish new contacts. We are determined to be there again as exhibitors the year after next, then in Barcelona.
Arno Dürr, Sales Manager, WEILBURGER Graphics GmbH
"We can look back on a very successful LabelExpo. Many good and in-depth discussions were held and our subsidiary MPRINT sold an MJETeco during the trade fair. We are already looking forward to LabelExpo 2025 in Barcelona."
Lena Bruns, Marketing Manager Packaging and Print, LEONHARD KURZ Stiftung & Co. KG
"For the first time, we were represented at LabelExpo in Brussels not with our own stand, but with a joint stand with the PrintCity Alliance. We were able to use the synergies of our competencies in the network profitably and offer visitors real added value bundled on one stand. The high attendance confirmed our concept and promises a lot of potential for future trade shows as well."
Andreas Bosse, Head of Marketing IST METZ
"In addition to existing customers, we were able to meet very many and extremely interesting customers and establish new contacts. In particular, the decision-makers of large groups of companies who want to expand their cooperation with Z+G or solve a new challenge with our products. The trade show was a complete success, with high quality and promising discussions for the future. We also received positive feedback on our inkjet print samples, as well as the samples of the latest UV LED ink series UVAFLEX Y580 in Extended Gamut Print, the compostable Y581 FCM in the "Bee Friendly Flower" give-away set with compostable grass label and the TORACUR W580. The strong presence on the majority of the running lines at the show, as well as at Lombardi, OMET, MultiTec and Rhyguan or Lesko Engineering confirmed our connection in the market and showed the product quality LIVE at the show."
Jochen Christiaens, Product Management, Zeller+Gmelin GmbH & Co. KG
"LabelExpo 2023 has been a remarkable event, and I am thrilled to report that our participation exceeded all expectations. Our team's hard work and dedication leading up to the show truly paid off. We were able to showcase our latest innovations for the label printing industry to a highly engaged and diverse audience. The response from visitors, industry professionals, and potential clients was overwhelmingly positive. I would also like to thank our clients, partners, and everyone who visited our booth at LabelExpo. Your continued support and trust in our products and services drive us to push the boundaries of innovation and excellence. As we reflect on the achievements of LabelExpo 2023, we look forward to building on this success in the coming months and years. We are committed to delivering even more cutting-edge solutions and outstanding customer experiences.
Thank you once again for being a part of this remarkable journey!"
Nicolas Kirste, Head of Sales, Kocher+Beck GmbH + Co. Rotationsstanztechnik KG
DG press showcasing DG-AUXO and Embracing Collaboration with PrintCity Alliance
"DG press marked its debut appearance with the PrintCity Alliance at LabelExpo 2023, presenting our offerings in a shared booth located in Hall 11. Throughout the event, DG press hosted a multitude of valued customers and inquisitive label printers.
This year's primary goal was to introduce the DG-AUXO web offset press, a recent addition to our portfolio, and highlight why it stands as the premier choice for label printing and flexible packaging production. As a captivating focal point, we showcased a towering 2.5-meter-high DG-AUXO printing unit at the corner of our booth, drawing visitors in with its impressive presence. Our dedicated sales team, including our director, Remko Koolbergen, was on hand to provide insights and answer inquiries.
During the show, several key themes came to the forefront:
1. Environmental Responsibility: The DG-AUXO is positioned as one of the most environmentally friendly solutions within the label and flexible packaging printing industry.
2. Modularity and Versatility: Setting itself apart from other variable-size web offset presses, the DG-AUXO boasts a highly modular design and complete configuration flexibility, offering unmatched versatility.
3. Market Adaptability: Tailored to markets with minimal product standardization and a wide range of product sizes, such as labels and flexible packaging, the DG-AUXO excels in delivering high print quality, low pre-press costs, rapid time-to-market, and the use of solventless inks. These attributes make the DG-AUXO ideal for handling shorter production runs and meeting the heightened sustainability demands of the label packaging and flexible packaging sectors.
In summary, our presence at LabelExpo 2023 was a resounding success, thanks in no small part to the collaborative efforts of the PrintCity Alliance. We are grateful for the opportunity to join forces with fellow industry organizations, allowing us to complement each other in a positive and efficient manner. Our unified presentation at LabelExpo 2023 embodied the spirit of alliance, and we look forward to future endeavours together."
Rasheda Cijntje, Marketing Manager, DG press ServiceS BV