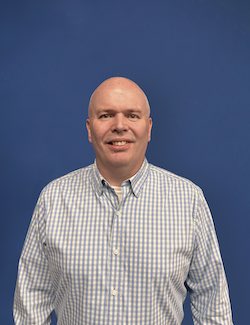 Wilmington, MA —Kirkwood Printing Company, a leading provider of high-quality printing and packaging solutions, is pleased to announce the newest addition to its team, Dana C. Langille, as a Customer Service Representative.
Dana C. Langille brings over two decades of expertise in customer service and a proven track record of delivering exceptional service and support in the printing industry. With a career spanning from 1997 to the present, Dana has consistently demonstrated a commitment to quality, organization, and flexibility. He is known for his ability to work independently under tight deadlines, ensuring that customer expectations are not only met but exceeded.
Dana's professional journey includes notable roles at several distinguished companies in the printing and communications industry, where he honed his skills and made significant contributions to client satisfaction. The most recent company was Shawmut Communications Group (Peabody, Massachusetts), where he served as the Director of Customer Service.
Throughout his career, Dana has consistently demonstrated his ability to streamline workflows, manage projects from inception to delivery, and maintain strong client relationships. He possesses exceptional time management skills, ensuring that client-driven deadlines are met without compromise. His keen eye for detail and his practice of reviewing press sheets with clients have helped identify and address potential issues proactively.
Dana holds a Bachelor of Science degree in Elementary Education from Westfield State College and an Associate of Arts degree in Liberal Arts from North Shore Community College. His academic achievements, including Dean's List recognition, underscore his dedication to excellence.
"We are thrilled to welcome Dana C. Langille to our team at Kirkwood Printing Company," said Mark Nappa, Chief Sales Officer at Kirkwood. "Dana's extensive experience, commitment to quality, and strong client-centric approach align perfectly with our company's values. We are confident that his expertise will play a pivotal role in our continued growth and in exceeding our clients' expectations."
Kirkwood is a leading provider of high-quality printing, packaging, and pharm/bio solutions. With a commitment to excellence, innovation, and customer satisfaction, Kirkwood serves a diverse range of clients, including businesses, organizations, and individuals. The company's state-of-the-art facilities and experienced team ensure the delivery of outstanding print products and packaging solutions. For more information, please visit kirkwoodus.com