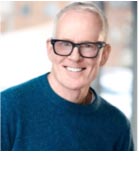 Sterling, VA — After serving a six-month consulting assignment with NPSOA focusing on member outreach and engagement, Michael Makin has joined the association as a staff member.

"The Board of NPSOA has been very impressed with Michael's work with the membership and we are excited he has accepted the position of Director of Development," says Nathaniel Grant, Chairman of the organization.

"In his new role, Michael's primary focus will be on membership development and working with vendors. He will also be a resource at the annual conference and will continue to contribute content to the NPSOA Magazine and website," adds Grant.

Makin served as the President and CEO of Printing Industries of America (PIA) for almost 20 years before its merger with Printing United Alliance. Prior to that he was the President of the Canadian Printing Industries Association. He also served as the Chairman of the World Print and Communications Forum, based in Brussels, for more than 10 years.

After retiring from Printing United Alliance in 2021 Makin focused his time on social media consulting and business development with a select group of clients outside the printing industry.

He has also become a social media celebrity in his own right with a popular following on channels such as TikTok, Instagram and YouTube with almost 800,000 followers and 70 million video views.