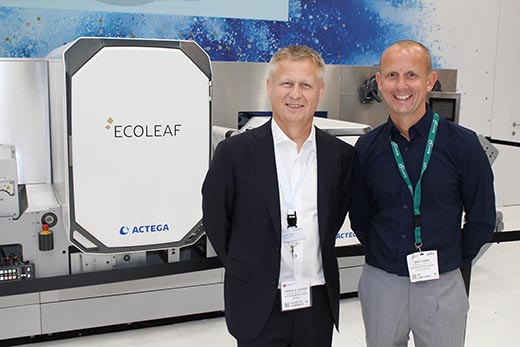 Harald Jasper, Managing Director of ACTEGA Metal Print and Matt Dass, Matt Managing Director of Springfield Solutions at Labelexpo Europe 2023
ECOLEAF unit now reaches industry productivity and performance levels to support medium to long-run jobs, bringing the benefits of sustainable, on-demand metallization to mainstream narrow web packaging and labels production.
Adoption of ECOLEAF metallization accelerates with this unique, high gloss decoration being incorporated into All4Labels and other market leaders' production lines.
Brussels – ACTEGA, manufacturer of specialty coatings, inks, adhesives, sealants and compounds for the print and packaging industry, has today announced the latest news for the company at Labelexpo Europe 2023 (Brussels, Belgium, 11-14 September). The news shared included significant developments for its innovative, sustainable, on-demand metallization technology, ECOLEAF.
The company confirmed that ECOLEAF now runs at 70m/min on digital inkjet lines and 80m/min on flexo lines. Medium to high run jobs across all types of existing production lines can now easily integrate ECOLEAF and benefit from improved sustainability whilst delivering the high gloss and quality usually achieved with traditional foil processes.
In addition, ACTEGA's vision to bring ECOLEAF on-demand metallization to as much of the industry as possible has taken a significant step forward. The technology is now being embraced by leaders across the industry, with brands in this sector excited by the finished products and the promise of considerable advances in sustainability. With more and more innovative companies adopting on-demand metallization, the ECOLEAF metallization application range now includes laminated tubes, shrink sleeves, and pressure sensitive labels.
Matt Dass, MD of Springfield Solutions, part of All4Labels and ECOLEAF's first digital partner, substantiated the importance of the latest milestones met by the ECOLEAF team, "We installed our ECOLEAF unit in 2022 to add to our existing digital embellishment service. The ECOLEAF team has been extremely supportive and made adding on-demand metallization to our capabilities so easy. We're now giving our customers the quality and price comparisons of ECOLEAF decorated labels and ones decorated using traditional foiling processes. When faced with these samples combined with the opportunity to reduce their carbon footprint and waste considerably, the decision to choose ECOLEAF is abundantly clear."
Harald Jasper, Managing Director of ACTEGA Metal Print explains, "It is widely known that traditional foil processes used to upscale labels and packaging products are expensive, complex to integrate into the production process and extremely wasteful. Our goal for ECOLEAF is to enable sustainable, on-demand metallization of labels and packaging - applying high quality, plastic-free metallic decoration only when and where you want it. Today, we have proven that this exciting transformation of this industry is well under way. With higher speeds achievable and new markets seeing the potential for improved decoration processes, we are seeing more and more forward-thinking converters, OEMs and brands wanting to make the switch to ECOLEAF."
An ECOLEAF unit is being demonstrated live on the ACTEGA stand (6C32) and on partner, AB Graphic International's stand (6A37) at Labelexpo this week. This is the first time the solution is being exhibited on a fully digital line and the first time customers and prospects will see the technology in action at a European tradeshow.
Also on display at the ACTEGA booth are the company's latest innovations in high impact coatings and inks for labels and flexible packaging. Samples showcasing ACTEGA's haptic effect coating series, LED-UV coatings, and White and Metallic Inks are sure to capture visitors' attention and impress converters with their advanced functionalities.
Benjamin Lux, CTO of ACTEGA, explained his vision for the ACTEGA business overall, "With such an extensive range of coatings and inks developed with product differentiation and improved functionality at the forefront, as well as pioneering technology like ECOLEAF, ACTEGA is enabling our customers to remain profitable and competitive. We actively look to develop solutions that meet current market needs while trying to predict the needs of the future with our unwavering focus on sustainability. Labelexpo is an ideal opportunity for customers and prospects to see all these latest solutions to their production challenges and gain inspiration in new ways to future-proof their business. We urge everyone to do just that in the coming days and see ACTEGA's latest innovations for themselves."