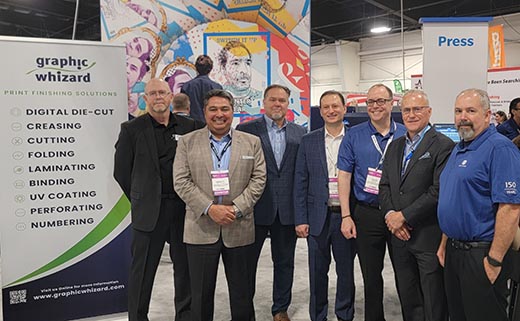 Ramsey, NJ -- Konica Minolta Business Solutions U.S.A., Inc. (Konica Minolta) today proudly announced a strategic North American partnership with Graphic Whizard Inc. and Graphic Whizard USA Inc. (Graphic Whizard).
The alliance establishes Konica Minolta as an authorized full-line reseller of Graphic Whizard's Print Finishing Equipment in the North American marketplace. By joining forces, Konica Minolta strengthens its position as a trusted industry expert, equipped to meet the growing demands of the print industry. As an authorized reseller, Konica Minolta gains access to a comprehensive portfolio of high-quality finishing equipment, enhancing its finishing offerings.
Konica Minolta began to offer Graphic Whizard's finishing equipment in Canada several years ago through a third party relationship. As demand for innovative finishing options continued to grow, the relationship naturally evolved into a North American direct agreement.
The collaboration empowers Konica Minolta to deliver unparalleled value to customers, streamlining their print finishing processes and enhancing productivity. By leveraging the expertise of both companies, clients can expect tailored solutions that address their unique finishing needs at a competitive price. The comprehensive portfolio includes:
Slit/cut/creasing machines
Digital die-cutting machines
Creasing and perforating machines, creasing and folding machines
Laminating machines
Bindery peripherals
"Partnering with Graphic Whizard USA Inc. enables Konica Minolta to expand its third-party portfolio and cater to the growing demands of our customers seeking efficient and reliable finishing solutions," said Dino Pagliarello, Senior Vice President, Portfolio Management and Planning, Konica Minolta. "Our team is excited to leverage our new partner's expertise, delivering unmatched value and support to our clients."
Graphic Whizard offers a mobile showroom experience that showcases seven of its most popular finishing offerings. An impactful addition to product demos, showcase events and product training seminars, the showroom allows clients to see the potential and value of Graphic Whizard's finishing options first hand.
"This alliance emphasizes our shared commitment to the demands of the marketplace. We continue to innovate and deliver finishing solutions that organizations across all industries can trust and depend on," said Steve Allen, President, Graphic Whizard.
"We look forward to working closely with Konica Minolta to deliver high-quality products and exceptional customer service. Graphic Whizard shares Konica Minolta's commitment to innovation, reliability and customer satisfaction," said Chris Harrington, Vice President of Sales, Graphic Whizard. "With a shared vision of driving success, this partnership creates a powerful synergy that will revolutionize our clients' print finishing processes across North America."
Visit Konica Minolta online for more information about its products and solutions.
Visit Graphic Whizard online for more information about its finishing equipment offerings.