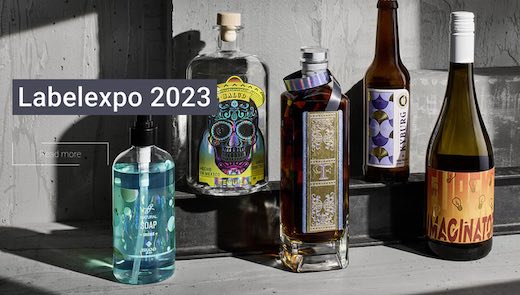 Label Expo 2023: PrintCity Alliance shows impressive finishing of labels and packaging - environmentally friendly and sustainable.
PrintCity Allianz (PCA), Zell/Mosel/Germany—The PrintCity Alliance will be showcasing innovations from its eight members and partners at Label Expo 2023 (Brussels, September 11-14, Hall11, Stand C20), and highlighting solutions from Leonard Kurz GmbH. Kurz will be demonstrating environmentally friendly, sustainable and high-quality finishing of labels and packaging, which - due to their nature - can achieve impressive results and attract a lot of attention.
In addition, they will demonstrate the combined know-how of their eight experts from all member companies as well as the label development of their award-winning "Multi Dual Cooler".
In Focus: Finishing of Labels and Packaging by Leonard Kurz
Leonhard Kurz shows labels that are both sustainable and decorative. Whether holograms, sharp-edged metallizations - even real 3D effects are possible and do not contradict paying attention to the environment. At Label Expo, Leonhard Kurz will be showing high-quality finishes that use extremely thin transfer substrates. In addition, visitors can find out how Kurz handles PET carrier material and returns it to the raw material life cycle. Kurz will be demonstrating how the finishing of labels and packaging can be designed quickly, efficiently, flexibly and cost-effectively, while still being eye-catching.
The PrintCity Alliance Network and the Companies in Detail
The PrintCity network includes the companies DG press, GMG, IST Metz, Kocher+Beck, KURZ, Weilburger, Westland and Zeller+Gmelin. The network is constantly being expanded to include project partners such as GMG, who complement the alliance in terms of expertise.
DG Press
DG press will show its third generation of high-tech web offset presses equipped with sleeve technology: "DG-AUXO".
GMG
GMG shows how printers can position themselves for the future with a high-performance color management solution for the challenges in label production. WEILBURGER Graphics Weilburger focuses on the presentation of coatings for the label sector.
Westland
The focus is on the patented LotoTec®-MRS: Modular Roller System for offset printing, the AntiTAC product family as a wear-resistant and adhesive-repellent alternative to silicone rollers.
Zeller+Gmelin
Zeller+Gmelin presents its new generation of UV LED and digital ink series (UVAFLEX UV LED FCM Y581 and NON-FCM Y580).