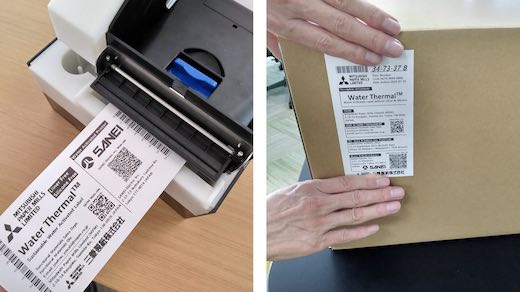 We announce that we, Mitsubishi Paper Mills Limited (MPM) have developed a new environmentally friendly product of linerless thermal label with remoistening glue "Water Thermal™"
The market growth in E-Commerce of sales of goods generates more interest on the labels attached on the package. We, MPM, made the best effort and succeeded to develop the product of linerless thermal label "Water Thermal™" with the focus on remoistening glue to realize product development of logistic label without liner and silicone. The system of its mass production has well established and Water Thermal™ is going to be released in domestic market as well as overseas.
While the paper product development, we cooperated with Sanei Electric Inc. (https://www.sanei-elec.co.jp/) to develop the thermal printer "Hydro-Eco™" which is dedicated for products with remoistening glue. The prototype printer succeeded to achieve both good printability and activation of adhesiveness with ease in handling seamlessly.
We will introduce our "Water Thermal™" at the booth of our subsidiary, Mitsubishi HiTec Paper Europe GmbH (MPE) at the worldwide attracting exhibition for label products, "LABELEXPO EUROPE 2023" from September 11 th to 14 th in Brussels, Belgium.
The collaborated demo with the prototype from Sanei Electric Inc. is programmed during the exhibition as well.
LABELEXPO EUROPE 2023
Date: September 11. (Mon.) 14. (Fri.), 2023
Place: BRUSSEL EXPO 1 Place de Belgique, 1020 Brussels, Belgium
Booth location (MPE): 6A09(HALL6)
MPM makes continuous effort to provide products with the focus on the sustainable society for the worldwide market.