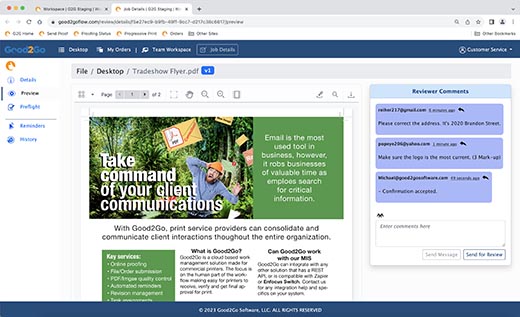 Shickshinny, PA: Today, Good2Go Software's online proofing solution for commercial printers of all sizes announces the addition of multiple reviewer support to its popular online proofing service. Available today, this new feature allows a single document or multiple documents to be sent to multiple reviewers using one simple dialog. In addition to simplifying the sending of proofs, the new feature also simplifies the monitoring and processing of the results.
Good2Go is an online proofing solution designed to help commercial printers of all sizes keep their print approvals, changes, and corrections organized and available to anyone in the organization. Good2Go, known for its ease of use, now provides a single interface for sending all varieties of proofs. This includes single documents to a single reviewer and multiple documents to multiple reviewers.
"Single documents, single reviewer, multiple documents, multiple reviewers, we do it all now," said Michael Reiher, president of Good2Go Software. "Customers have been asking for this feature from the beginning, and now it's delivered. Not only do we make it easy to send layouts to multiple reviewers at once, but we also made the management and monitoring very easy. That's very hard to do in email," continued Michael.
With this update, the Good2Go user can choose a single document or a folder of documents to be sent for proofing from a single action. From the "Send for Review" window, all the user needs to do is enter the emails for the reviewers. This can be done one at a time, or if it's a regular client, they can select a contact group to speed up the reviewer selection. Good2Go automatically inserts a default review message and sets a review deadline that Good2Go uses to send reminders.
"One of the biggest challenges to sending documents to multiple people for review is tracking their responses and consolidating their comments. Good2Go has addressed this challenge, and we're looking forward to using the new feature," said Caitlin Roberts Sullivan, president of Furbush Roberts Printing Company.
Once the review is sent, Good2Go provides a monitoring dashboard that shows the status of each file and what each reviewer has selected for their review response. All user comments, mark-ups, and review decisions are displayed on one screen and noted in the file history. This makes it very easy for the printer to monitor comments for changes or determine if the document is approved and ready for print.
The new feature is now available for all Good2Go users and is included in all subscription levels. Printers interested in evaluating Good2Go proofing and the new multiple reviewer capabilities are encouraged to write sales@Good2GoSoftware to arrange a 30-minute discovery session. In this session, a team member will review your needs, show you how Good2Go works, answer your questions, and help you get started with a 14-day free trial.
Good2Go is an open-proofing platform allowing Good2Go services to be integrated with a variety of MIS, ERP, or CRM systems. Good2Go is also compatible with the Zapier automation platform, offering a range of triggers and actions. Additionally, we provide comprehensive integration with Enfocus Switch via our Good2Go App suite. Customers looking to know more about integrating Good2Go services should contact us at sales@Good2GoSoftware.
For more information on Good2Go or Good2Go Software LLC, visit the Good2Go Software website at www.good2gosoftware.com or email us at [email protected].
Good2Go Software, LLC, founded in 2020, is a global supplier of cloud-based workflow solutions for the graphic arts and printing industries. Our mission is to offer an open solution environment accessible by printers of any size. We will do this by taking an all-new approach to delivering powerful graphic art production services utilizing the latest cloud technologies. Good2Go customers can be up and running in less than 30 minutes and without any additional integration, special hardware, or IT services required. This is why we say, "Good2Go is workflow without the work."