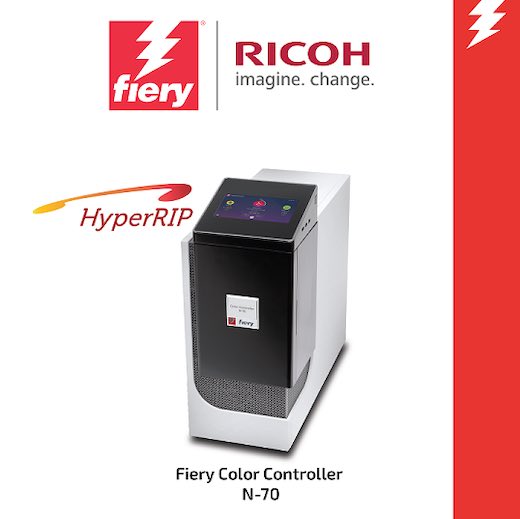 New Fiery server helps Ricoh customers maximize press productivity, ensure accurate color, and reduce job prep time with intelligent automation.

Fremont, California – Fiery, LLC and Ricoh USA, Inc. have expanded their long-term partnership with the launch of a new Fiery® digital front end (DFE) driving the new RICOH Pro C9500 digital color sheetfed press. Fiery is the exclusive DFE provider for the RICOH Pro C9500, providing customers with unparalleled digital print performance to elevate productivity, improve quality, and automate workflows for greater labor savings.

Fiery Color Controller N-70, based on the high-performance Fiery NX Premium platform and Fiery FS500 Pro software, provides maximum production power for RICOH Pro C9500 customers.

"Our customers have come to depend on the exceptional performance delivered by Fiery DFEs, and that's why we chose Fiery as the core DFE technology strategic partner for our next-generation sheetfed presses," said Gavin Jordan-Smith, Senior Vice President and General Manager, Head of Global Sales Strategy Division & RGC North America Sales, RICOH Graphic Communications. "Our long-term co-innovation and collaboration with Fiery in the development of DFEs optimized for use with Ricoh ProTM line presses has been an important factor in the overall success of our production printing portfolio. With this new Fiery DFE, we have continued this work, supporting the increasingly productive digital printing solutions that our customers require."

Key features include:
Significant speed boost. Fiery Color Controller N-70 processes files more than 20% faster than its predecessor. Plus, built-in Fiery HyperRIP™ technology delivers maximum horsepower to process multiple jobs simultaneously or, for large files, split a job into multiple parts across multiple RIPs. This enables operators to turn jobs around faster, optimize press capacity, and accept additional work to boost revenue.
Faster job setup. Save hours per week of valuable production time with built-in Fiery features. The award-winning Fiery JobExpert intelligent automation technology leverages advanced proprietary algorithms to reduce job setup time by automatically analyzing and selecting the right color and imaging settings. With Fiery JobFlow Base, customers can set up one click workflows that automate job submission and other job prep tasks for ready-to-print files. And, with the included Fiery Impose, users can automate imposition tasks and apply templates for offline finishers from Duplo, Graphic Whizard, MBM, Horizon, Morgana, Standard, and Plockmatic, eliminating manual data entry and setup, saving up to 70% in job prep time.
More efficient media management. Media Catalog makes media management a breeze by enabling a single entry for a media type, grouping multiple sizes together, and automatically applying calibration and color profiles to all.
Less waste, more sellable prints. Fiery Color Controller N-70 comes standard with Fiery Graphic Arts Pro Package, which ensures every print is sellable with tools to make late-stage edits right at the DFE, identifying and correcting print problems before they lead to rejected jobs and waste.
Accurate, consistent color. Integration with the Pro C9500's inline sensor enables automated color calibration for increased operator productivity and color consistency. Built-in Fiery Edge factory profiles ensure the best out-of-the-box color. And, the included Fiery Spot Pro provides customers with the advanced tools they need to address the most demanding brand color reproduction requirements.
Seamless integration. Customers can establish broad, business-wide integration with industry standard MIS or Web-to-print solutions using Fiery JDF, or rapidly develop live, bi-directional integration with homegrown software or web services for their unique workflow automation needs using Fiery API.

"Ricoh continues to advance its digital press portfolio and pairing the new RICOH Pro C9500 with a high-value Fiery DFE is an unbeatable combination that helps reduce labor costs, improve output quality, and cut job turnaround times," said John Henze, vice president, sales and marketing. "With a Fiery DFE, customers can maximize their investment in new presses for increased profitability while ensuring the highest quality and accuracy the first time, every time."

The Fiery Driven™ RICOH Pro C9500 is available from Ricoh and/or its authorized dealers or distributors. For more information about Fiery digital front end and digital print workflow solutions, visit www.fiery.com.