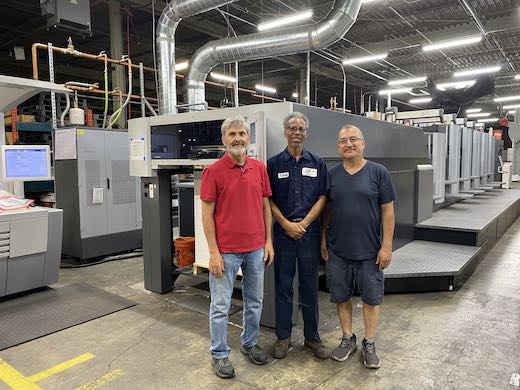 (L to R), Paul Heavilin the prepress/sheetfed manager, Tracey Hayden the first shift pressman, and Marco Garcia the second shift pressman.
Craftline Graphics, Fort Wayne, Indiana, a printing industry leader in North America, has announced the installation of the PressProfiler CIP3 software from Prepress UK, which is interfaced to Craftline's recently added Heidelberg CX102-5 litho press.
PressProfiler provides a link between Craftline's Kodak Prinergy workflow and the Heidelberg's PressCenter console. The system helps to automate make-ready, saving both time to good copy, as well as paper and consumables, using both PressProfiler's CIP3 ink coverage data and Heidelberg's Intellistart system.
PressProfiler is a powerful and easy to use CIP3 ink coverage and ink-zone calculation solution for offset litho printing presses, providing accurate ink-key pre-setting data for faster make-ready, and helping to ensure fewer run-up sheets are required, and a reduced time before correct colour is achieved on the press.
Commenting on the need for PressProfiler, Paul Heavilin of Craftline Graphics said: "PressProfiler supplies the ink data for the next job, allowing us make a fast start. It can shave minutes off a make-ready, providing highly accurate ink key information to the press. It is a great addition to our recently installed Heidelberg CX-102-5 B1-format five colour printing machine.
"The fact that Prepress UK can install the software, review the initial test jobs, and refine the software so that it matches the specific needs of our press, without leaving their UK office, is both faster and considerably less expensive than a guy jumping on a plane.

"Once the press has the correct ink profile, we then save a whole bunch of waste sheets as well before we get into good, saleable copies. Take all of those small bits of time and cost, then multiply them by the make-readies that we do on the press in a week, and that equals a considerable time saving, plus we know that we are also saving on consumables and paper. That's the real result of PressProfiler."
PressProfiler CIP3 is a one-time purchase from Prepress UK – the printer then owns the software for life. It comes with one-year of remote support and then an optional, low-cost, contract is available from year two onwards. In contrast, some press suppliers are now requiring customers who wish to upgrade or connect a new press to purchase their latest CIP3 software with an upfront cost and then on-going monthly subscription.
Andrew Aldridge, Technical Manager at Prepress UK, commenting on his company's product, said: "This was a very straightforward job for us – remote installation saves the customer time and money to get the system connected. Modern presses, like Craftline's CX102, connect with PressProfiler directly over the network and will work in the same way as Heidelberg's original system, but at a fraction of the price."
Nic Chapman, Sales Director at Prepress UK added: "It's a pleasure to be working with Craftline Graphics. Every optimisation we can bring to reduce make-ready for a printer helps them to increase their margins. Adding valuable dollars to a printer's bottom line has to be good news in these inflationary times. Software that can aid the printer to make money shows a business that really understands how to make a press work for them."
PressProfiler communicates directly to a wide range of press consoles in their native format, including products from Heidelberg, Koenig & Bauer, manroland sheet-fed, RMGT / Ryobi, Komori, and many others. Integrating with any workflow or RIP, it works with incoming PDF, PS, TIFF or PPF (CIP3) files.
See the www.prepressuk.com and www.pressprofiler.com websites for more details about the company.