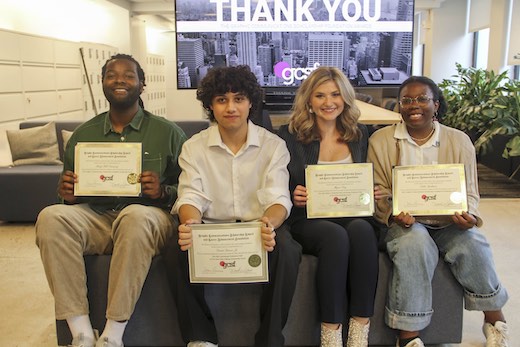 Student recipients, from left: Sharif Kariem Hill-Dunning (Farmingdale State College), 2023 GCSF Scholarship Award; David Garcia Jr. (SUNY Purchase), 2023 APC-NYC Video Production Scholarship Award; Megan Sorg (Molloy University), 2023 APC-NYC Judy Salmon Scholarship Award; Sable Spellman (Kingsborough Community College), 2023 GCSF Scholarship Award. Not in photo: recipient Daniel Jacob (Northeastern University), 2023 GCSF Scholarship Award. (photo credit: Kaye Torres).
Friends of the industry mark another year of supporting students of graphic communications and organizations that educate people in the field.
Five deserving students and three equally worthy organizations shared nearly $35,000 in education grants at the 2023 scholarship awards ceremony hosted by the Graphic Communications Scholarship Foundation (GCSF) on June 29.
With the 2023 scholarships and the institutional funding, GCSF – an all-volunteer, nonprofit 501(c)(3) entity – has contributed $1.4 million to the cause of print industry education since awarding its first scholarships in 2002.
This year's awards were made despite the difficulty of fundraising during the long siege of COVID, said Diane Romano, President of the Foundation, as she concluded her three-year term as its leader. She also cited GCSF's partnership with the Advertising Production Club of New York (APC-NYC), which funded three of the 2023 scholarships.
Both groups work in support of young people from the New York City metropolitan area who are enrolled in graphic communications study programs. Besides raising money for scholarships, GCSF and APC-NYC cooperate in providing technical training, mentorships, and work/study opportunities for students pursuing careers in the industry.
The ceremony took place in the Manhattan offices of TBWA/Chiat/Day/New York, a leading advertising agency and a co-sponsor of the event along with LB Graph-X & Printing. About 50 people attended, including the recipients, their family members, teachers, and friends, as well as board members of GCSF and APC-NYC.
John Aaron, who succeeds Romano as President of GCSF, presented the first of the Foundation's scholarship awards to Sable Spellman (Kingsborough Community College), whose well-wishers at the event included four of her professors.
Ellen Hurwitch, incoming as Treasurer of GCSF, saluted Sharif Kariem Hill-Dunning (Farmingdale State College) as "an incredible guy" as she handed him the certificate for his scholarship grant.
Eloise Martinez, President and Treasurer of APC-NYC, and Luis Serrano, APC-NYC board member, presented the first of their group's three scholarships to Daniel Jacob, a recent graduate of Long Island's East Meadow High School who is now on his way to study UX (user experience) design at Northeastern University. Accepting on his behalf was one of his teachers, Heather Anastasio, district art department chair of the East Meadow school system.
David Garcia, Jr. will study video production at SUNY Purchase with the help of a 2023 scholarship award from APC-NY.
The award to Megan Sorg (Molloy University) was given in memory of Judy Salmon, a past president of APC-NY.
Introducing the three institutional donations, Romano noted that contributing to group activities as well as to individuals expands the ways in which GCSF can help students and supporters of graphic communications.
Lisa Daniell, operations manager at Women's Press Collective, thanked GCSF for repeating the grant it had made to her organization last year. Based in the Bronx, WPC has been teaching people how to write, design, and print in support of grassroots advocacy campaigns in their communities since 1982. Daniell said developing community media is more important than ever now that the mainstream news business has become "incredibly consolidated" and local newspapers are shutting down at the rate of one every three to four days.
Romano praised the Mariano Rivera Foundation for its efforts to open educational and career paths for young people who come from underserved backgrounds.
Its namesake founder, a New York Yankees pitching legend and a Major League Baseball Hall of Fame inductee, has worked with printers in New Jersey to create training programs that enable local students to gain certified credentials in a variety of prepress, press, and project management skills. As part of its Save 653 initiative, Rivera's organization is preparing to break ground on a 40,000-sq. ft. learning center in New Rochelle, NY that will offer, besides vocational training in print and other job skills, STEM learning opportunities, college preparatory services, and one-on-one mentorships.
"He's building schools," said Romano of Rivera's pursuit of objectives that are also GCSF's. "He's raising money. We will work with the Mariano Rivera Foundation to help bring more young adults into this industry."
GCSF has a similar relationship with the Department of Communication Design (COMD) at New York City College of Technology, which received its first grant from the Foundation last year. Presenting the 2023 donation, Hurwitch noted that because COMD students attend a school in the publicly funded CUNY system, the rules prevent them from accepting individual scholarships. Grants to the department let COMD enhance their learning experiences in other ways, Hurwitch said.
Eli Neugeboren, Professor of Communication Design, said the funding also helps to take some of the pain out of the austerity measures that CUNY schools have had to endure in recent years. Last year, for example, the GCSF money let COMD replace antiquated student cameras and acquire useful items such as hardware for displaying artwork and digital tablets for drawing.
COMD enrolls about 500 students preparing for careers in graphic design, advertising, motion design, illustration, and web design. It offers the CUNY system's only BFA in communication design. Neugeboren spoke of the "buzz" of excitement felt in the department and across City Tech's Downtown Brooklyn campus in general now that academic life is returning to pre-pandemic normal.
Summing up, Romano reiterated GCSF's commitment to workforce development through education, training, and mentoring.
"All we focus on are the students," she declared. "We award scholarships to students who work hard, care, and want to make a difference."
Romano noted that employers in all industries are having a hard time recruiting the next generation of talent. Through its programs, GCSF "will train, mentor, and find the workforce that the graphic communications industry depends on," she said.
Because it works without professional staff or dedicated office space, GCSF has virtually no overhead expenses. All of the money it raises passes through to students as scholarships and to qualifying organizations as cash grants. To donate, and for further information, visit https://gcsfny.org/donate/.