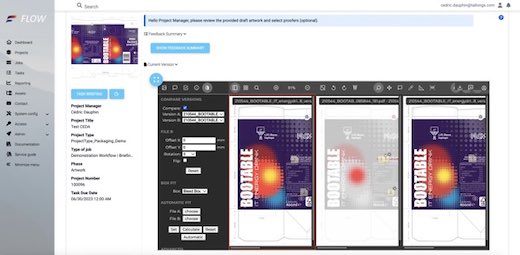 (Ghent, Belgium) HYBRID Software is pleased to announce a strategic partnership with Tallon Graphic Solutions (TGS), a Belgian software company that provides packaging and artwork management solutions for brand owners, retailers, and design agencies. HYBRID Software will become the preferred reseller for TGS's flagship software product, Flow.
Flow is a comprehensive, SaaS-based artwork management solution that helps brands and retailers manage their large portfolios of complex graphical projects. It provides an easy overview of projects, supports detailed briefings, visual approval, and much more. Through its API functionality, Flow is easy to integrate with ERP, PIM, or DAM systems.

The partnership between HYBRID Software and TGS will allow for a common development and technology roadmap, leading to accelerated feature development and a consistent link between the artwork management process and various production workflows. Flow is tightly coupled with HYBRID's CLOUDFLOW, bringing advanced pre-press functionality including Proofscope viewing, 3D visualizations, approval loops, and automated pre-press to TGS's Flow customers.
Says Igor Vandromme, Hybrid Software's Business Manager for New Market Segments, "HYBRID Software has long been focused on production applications, selling mainly to packaging printers and converters. But recently, the activity in the brand space has increased through the acquisition of iC3D and Quadraxis. Our new partnership with TGS is the next logical step to further grow our business in the brand owner and retailer segment."