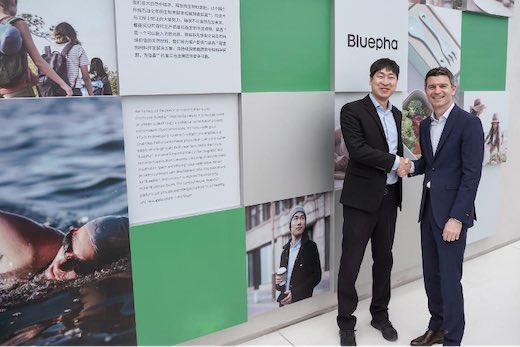 Mr. Teng Li (left) and Mr.Thomas Philipon (right) at Bluepha PHA Biorefinery exhibition hall
YANCHENG, China – Bluepha Co. Ltd ("Bluepha"), the leading synthetic biology company in China, and TotalEnergies Corbion, a global leader in PLA technology, have signed a memorandum of understanding (MOU) to accelerate the market adoption of PLA/PHA-based solutions in China. The collaboration aims to bring together the expertise and resources of both companies to further advance the development of high-performance biopolymer solutions, combining Bluepha® Polyhydroxyalkanoates (PHA) with Luminy® Polylactic Acid (PLA) technology.
"We are very excited about this collaboration with TotalEnergies Corbion," said Dr. Teng Li, President & Co-founder of Bluepha. He continued: "TotalEnergies Corbion is a trustworthy partner and Bluepha® PHA mixed with Luminy® PLA would be as a Chinese saying 'Adding wings to the tiger'. Together, the two companies can give more opportunities to our downstream partners and contribute to a more sustainable future."
"By combining the complementary properties of these materials, we will significantly expand the application possibilities for brand owners seeking fully biobased material solutions," said Thomas Philipon, CEO of TotalEnergies Corbion.
Under the terms of the MOU, Bluepha and TotalEnergies Corbion will jointly promote PLA and PHA market applications in China. Before the MOU signing ceremony, Thomas Philipon took a tour of the Bluepha PHA Biorefinery, which completed construction in October 2022 in Yancheng and recently began production of the Bluepha® PHA product.