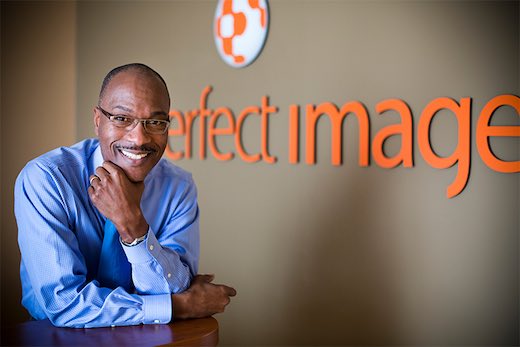 Ira Jackson has served as the president of Perfect Image since 1991. He is candid about recent challenges and how the firm has worked to overcome them. "Perfect Image was working on growth strategies before the pandemic hit, and we had to decide whether to keep moving forward or wait. We decided to leap in, without reservation, to redefine our journey to success." Their path took them to a respected consultant and Kodak Workflow. The results enabled business growth and expansion.
Hybrid print communications are in the DNA of Perfect Image, a full-service commercial printer and marketing support partner based in Marietta, Georgia. Minority-owned and managed, the firm has been meeting the communications needs of educational institutions, nonprofits, small to mid-size businesses, and some of the nation's biggest brands since 1982. Using offset and digital print technologies, they support complex workflows for variable data print jobs, wide-format requirements, specialty printing, post-press finishing, kit packing and assembly, and distribution and tracking. Providing marketing support services, Perfect Image works as an extension of its clients' marketing teams to enhance client outcomes and return on marketing investments.

Jackson explained, "Our management team reviewed our processes and did some soul searching with the goal of being a better partner to clients and making it easier for them to do business with us. The deep dive into our own processes was revealing. We determined that to keep clients engaged and grow, we needed to start by adding new products and services, but it would also be essential to invest in additional hardware and software technologies."

For Perfect Image, this meant engaging outside consulting help with the expertise to assess operations, processes, and needs and help guide decision-making. In 2021, the firm selected Meredith Nichols and Nichols Associates to bring needed specialty services to their table.

Nichols has decades of experience installing and managing prepress workflows and the array of support equipment used in commercial printing operations. Perfect Image embraced her approach, which boils the complexities of workflow down to its fundamental aspects to ensure every element is identifiable and automatable. For Nichols, the workflow is the hub of a printing business. "Reliability is a must-have," she says. "Workflow needs to be as reliable as an essential everyday appliance, like a refrigerator."

After testing and evaluation of current systems, Perfect Image concurred with Nichols that the way to help the business meet its objective to deliver exceptional print and marketing support services that lead its clients to individual and organizational success and support future growth objectives was to replace the current workflow and add color management technology alongside a client-facing, online prepress portal. While there are many available options, Nichols recommended the KODAK PRINERGY solution suite to reduce file preparation errors that lead to production bottlenecks and rework.
Perfect Image chose to implement these solutions:
KODAK PRINERGY Workflow, the print industry's leading prepress automation software
KODAK COLORFLOW Pro, the integrated software that ensures all color control elements, curves, ICC profiles, and spot color recipes are correctly used together across all devices
KODAK PRINERGY INSITE, a web portal to the prepress environment that lets Perfect Image and its clients work together with print jobs over the Internet in real-time
"Automating steps in the workflow reduced many of the redundant and human error-prone steps in the printing process," Nichols said. "The result is that today, Perfect Image is processing more jobs with the same staff capacity and evaluating job responsibilities to take further advantage of the firm's new workflow. It is uncommon for a mid-sized commercial printer to implement enterprise upgrades like these, but this is a perfect example of the everyday operational differences and investments that Ira and his team make, opening the door to higher client satisfaction and revenue and freeing up staff to focus more on the customer experience."

"We improved our proof-to-press match using COLORFLOW, and our digital-to-litho match is also better," Jackson said, adding that "With Nichols' calibration skills and eye for color, we elevated the print quality of our sheetfed department – and this was not a small, incremental increase. Clients were calling to ask if we added a new press. I expected print quality to increase but not to this degree. Improvements are dramatic. And as we work with our clients to fully leverage the online prepress portal to improve their own processes, we are seeing outcomes that are a win-win for everyone involved."

The new workflow solution, integrated color management processes, and client prepress interface gave Jackson the confidence in early 2022 to invest in a new flatbed wide format press and develop a plan that ties digital, offset, and wide format devices into a common workflow.

Kodak, Prinergy, InSite, and ColorFlow are trademarks of Eastman Kodak Company.