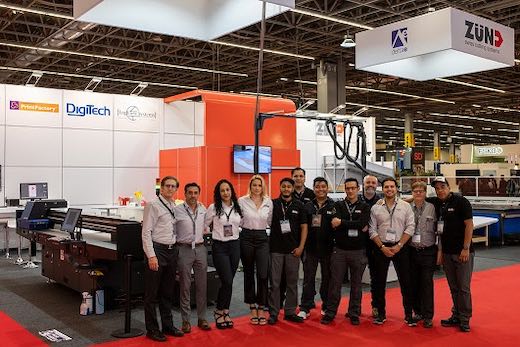 Delta E (Tintas y Plotters de Mexico SA de CV), the well-known supplier in the colour management and printing industry is proud to announce its appointment to become the latest distributor of PrintFactory workflow software, renowned across the world for its growing community of users.
The company, which is committed to offering the best in wide format graphic printing and finishing solutions, believes the software is the perfect match for its customers in the entire Mexican Republic.
"PrintFactory is a highly effective and reliable workflow solution," said Xavier Niebla, CEO of Delta E. "We're delighted to have been selected to extend its reach to this region. We understand how important it is for our customers to get the most from their products, and we're confident that our partnership with PrintFactory will deliver just that."
The appointment comes at a key time for the Dutch-headquartered software giant, as it looks to further expand its distribution network and reinforce its position as a world-leading provider of print management solutions.
Workflow software made by printers, for printers
Erik Strik, CEO of PrintFactory says "PrintFactory is a suite of workflow software made by printers, for printers. Built to solve everyday challenges in wide format printing, PrintFactory is a SaaS-based platform that simplifies production, saves ink and money.
With the help of the Delta E team, we are sharing our message with all types of printers: PrintFactory simplifies the production process and delivers excellent color, consistently. It's all about providing value to the customer while saving time and money.
Our development team deeply understands the difficulties of production floor work. With PrintFactory, you can easily connect operating systems and create jobs with one single piece RIP based workflow. PrintFactory is available for purchase through a wide network of branches, distributors, and resellers."
In 2022, Delta E and PrintFactory Collaborated to Install PrintFactory Connect at Moti Digital
Professionals at Moti Group were stunned at the capabilities of PrintFactory. On the second day of installation, their Durst machines were already producing with PrintFactory, and they also noticed a significant ink savings of 20% or more across all devices. Grey balance control was also greatly improved, and the layout tools made it easy to pre-process files and nest them.
PrintFactory Connect further upgraded their system with more powerful front-end tools, and XML specialists were able to integrate the software with the company's MIS and ERP systems. This allowed for full visibility of the operation, taking Moti Digital to a higher level. Customers appreciate the quality they can get from Moti that competitors can't match.
Overall, the team was highly impressed with PrintFactory, and the support they received was both helpful and efficient.
Alberto Garcia de Quevedo, President of Moti Group, summed it up when he said, "I am amazed at the results with PrintFactory."