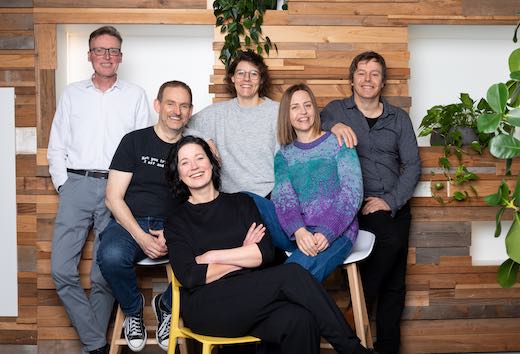 From left to right: Michael Oetjen – Christian Blaise – Cindy Van Luyck – Charlotte Holbrouck – Anabel De Vetter – Boris Van Calenbergh
Enhancing Professional Services to optimize printing workflows with smart integrations on a global scale
Ghent (Belgium) – Four Pees, the leading provider of print automation software solutions, has announced several exciting changes to its management team. The company has appointed Anabel De Vetter as its Chief Revenue Officer, while Cindy Van Luyck joins as Head of Marketing, and Boris Van Calenbergh takes on the role of Head of Finance and Administration. Michael Oetjen joins as Senior Implementation Consultant to increase the overall focus on tech implementation and process optimization at Four Pees customer sites. In addition, Christian Blaise takes on a new role as Head of Customer Success, while Charlotte Holbrouck is promoted to Channel Sales Manager to boost the Reseller channel. The growing number of businesses recognizing the value of print automation, validates the Four Pees determination to lead the way in providing hassle-free Connected Automation optimization. The company is anticipating a surge in automation requests in 2023 and believes that its new management team will be instrumental in accelerating the growth of its solutions and services to meet this demand.
"There's never been a more exciting time to be in the world of print automation, and 2023 promises to be a year filled with innovations and developments," says Four Pees CEO Tom Peire. "The global print software market was valued at $1.2 billion in 2021, and it is projected to grow to $6.3 billion by 2031. The platform economy is growing and maturing, but many printers are still struggling to connect online sales channels with on-site production. Connected Automation can solve that disconnect and help printers merge new technologies with their trusted expertise in print excellence. With our growing team of experts, we're ready to make our customers feel more confident than ever to embrace and integrate the print automation capabilities they need."
Four Pees is gearing up for a year of exciting growth and innovation in 2023, and the new management team will be making its debut at BOPE by VIGC, a key event in the print calendar, taking place alongside the Sign & Print Expo from March 14-16, 2023 in Gorinchem, The Netherlands. This event will provide an excellent opportunity for Four Pees to showcase its latest solutions and services and connect with industry professionals. At 10h50 on March 15th, Tom Peire will deliver a keynote presentation on Connected Automation and its value for the print industry today and tomorrow.
Peire concludes: "The future is looking bright for the omnichannel world, and Four Pees is ready to meet its challenges head-on. We can't wait to continue supporting our customers with hassle-free Connected Automation in the coming year. It is time for everyone to feel the good flow."
More information and vacancies at https://www.fourpees.com/en/jobs