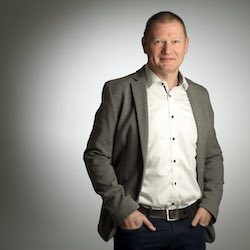 Ghent, Belgium – To champion growth into new market segments, HYBRID Software, the innovative software solutions provider for labels and packaging, announces the appointment of Igor Vandromme as Business Manager for New Market Segments.
Mr. Vandromme boasts a 27-year career spanning various managerial positions, including 22 years in the label and packaging industry. With his expertise and strong industry knowledge, HYBRID Software looks forward to having him on board in his new role.
Igor holds a bachelor's degree in Graphic Management from Arteveldehogeschool in Ghent, Belgium, and earned his Executive MBA at ESCP Europe.
Igor joins HYBRID Software after 5 years as Vice President of Global Services Healthcare at Barco. Previously, Igor was employed at Esko for 14 years where he was Vice President of Global Services.
Igor Vandromme remarks, "I am thrilled to join the HYBRID Software team to lead their new business development efforts. As a renowned global solution provider for the labels and packaging industry, HYBRID Software has built a massive portfolio of software capabilities dedicated to the industry. In my new role, the plan is to leverage and extend the HYBRID Software toolkit to address new and adjacent market segments. With my own experience combined with all the expertise within Hybrid Software Group, I am ready for the challenge."
Chairman Guido Van der Schueren adds, "I have had the pleasure of working with Igor Vandromme since 1996 and have always been impressed with his integrity, his drive to succeed, and his dedication to customer satisfaction. I'm delighted to renew our working relationship at HYBRID Software and wish Igor much success in his new role."