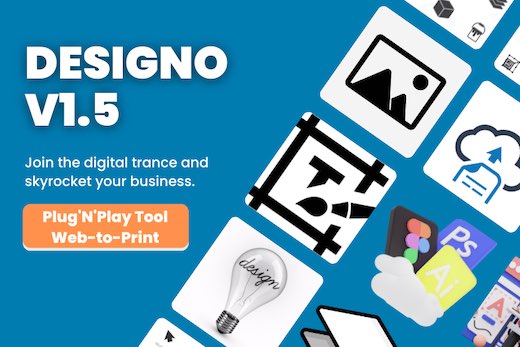 Design'N'Buy is a web-to-print solutions provider and DesignO is their online design tool available for online print and packaging businesses. Subscriptions are available as well as perpetual licenses for enterprises. Design'N'Buy's products are periodically upgraded with enhanced features and modifications based on market research, innovation center, and customer feedback in order to keep them relevant and cutting-edge.
Visit DesignO for more information: https://www.designnbuy.com/designo-online-graphics-designer-tool.html
DesignO V1.5 was the latest update. This update comes with many enhanced features to enhance user performance, deliver new design capabilities to the print and packaging industry, and to provide seamless design experiences.
Using DesignO, end users can design custom printing or packaging products. Along with an online design tool, it also has many different modules for experience personalization as well as seamless order and customer management. In DesignO V1.5, the most recent updates that were introduced on the platform are as follows:
The File Upload Feature:
For print shop owners who have already integrated DesignO with their platforms, File Upload is available as a microservice. While the platform provided end-users with the ability to design their own product, it did not support end-users to upload their own artwork and use it for design. With the File Upload feature, users now can upload their own designed artwork file and place it on their desired product.
There are 2 formats that this feature supports. Users can share their artwork as a JPEG file. In this file, they cannot only upload their artwork, but also customize it with options such as crop, resize or apply borders. The other way is to upload artwork with preview options. Once the chosen artwork is placed on the product, the user can get a customization price and if they are satisfied, they can add the product to the cart and send it for printing as a ready-to-print file to the printer.
This feature can be enabled by administrators through their respective W2P admin panel. It is also possible for them to provide guidelines for uploading artwork and instructions for uploading artwork in order to introduce the feature.
The Brand Kit features:
To make the process easier for B2B brand designers, an updated "brand kit feature" was provided. With this, corporate users or designers can create different brand kits in their profile and create a repository of client brand elements such as colors, logos and fonts.
To access the feature, users will have to follow the below given path in their Design Studio:
Design Studio -> My Account -> My Brands section.
Live Preview for Text Editor:
Using DesignO, users can create designs without any design or technical expertise. With design turnaround time being their major USP, to ensure a delightful user experience, DesignO V1.5 was given an update to provide a live and real-time preview of the text on the product.
Previously, users had to input the text and go to the preview to see their final product and make changes if needed. Now with the live preview option, users can adjust the text in the live preview and edit the text area in real-time.
Enhancements to design capabilities are now available in DesignO V 1.5:
Embellishments:
In order to enhance the 3D effect of their product design, users can now add emboss, deboss and foil effects to the design elements they have chosen. The effects can be applied to both text and graphic elements such as clip art. Additionally, users can view a live preview of the effect for better and more informed decision-making. For businesses that wish to create more options for embellishments, they can also add more options with design templates.
2. Curve and circular shape (text placement):
The task of creating circular, edge-matching text with manual design is challenging for non-designers. Thus, to automate this effect, users can simply select curve or circular from the design studio. This will enable them to design products such as bottle caps, badges, coffee packs and others with ease.
3. Layered products for Packaging Products:
With this enhanced feature of layered PDF files, printers will now receive a print-ready file that defines production instructions such as Cut Line, Fold Line, Glue Area, Background, Perf Line, and Printable Artwork. In this way, printers will be able to better understand the needs of their customers.
Here is the video of DesignO online design tool to know more about its features: https://youtu.be/mxxDGat__0A
To understand more about the capabilities of DesignO, print businesses can visit the Design'N'Buy website and also book a free demonstration by getting in touch with their experts.
Visit for more information: https://www.designnbuy.com/