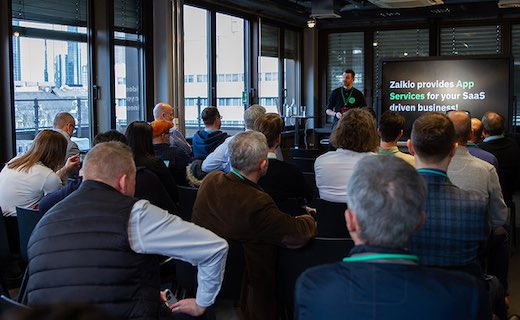 • Zaikio kicks off the new year with a well-attended conference for the print software industry.
• Representatives of nearly 50 companies discuss how to speed up development and better address printer's needs
• Attendees exchange their views on the challenges and trends in modular networked software for the print industry
The ZaiCon printing industry conference focused on the question of how the efficiency-enhancing exchange of data between different systems in the printing industry can be optimally shaped
More than 120 innovators from both the mechanical engineering and software development sides of the print industry met on January 17 and 18 at the first ZaiCon print software industry conference in Frankfurt, representing nearly 50 companies.
The focus was on optimising the data exchange between different systems, meant to enhance efficiency in the print industry. The ZaiCon conference is the brainchild of the software company Zaikio, which develops both an open, modular software platform for the print industry and apps on said platform.

Almost all the relevant software providers in the industry were there, the big names as well as the small specialists, exchanging views on the tech and business trends and challenges of the near future. The presentations and talks covered topics like software-as-a-service, the platform business and, more generally, the digitalisation of the print industry. "The well-attended event and the inspiring talks confirmed once again that we are on the right path to the future of the print industry", says Zaikio managing director Matthias Prinz.

Partners explain what's in it for them
Besides the Zaikio experts, speakers from software providers such as Tessitura, PrintPlus and Calibrate also presented their approaches to this. Markus Morawe from Tessitura spoke about how machine systems in print shops can be connected much more easily through open platforms to make the processes in the companies much more efficient. Peter Kleinheider of Calibrate (Austria) presented an easy way to get existing job definitions into the Zaikio platform.
Alex Sturzenegger from MIS vendor PrintPlus (Switzerland) explained how systems can use a variety of data to improve calculations and production planning. All these presentations clearly indicated the current trend in the print industry towards more cooperation and more connectivity.

Zaikio helps partners speed up development and better address printer's needs
An important element of this is Zaikio itself. Through a modern open cloud interface, Zaikio connects all players in the print shop software industry on an equal footing. This allows printers to choose from a wide range of applications for different tasks and still maintain full compatibility right from the start. Zaikio also provides a comprehensive toolkit to handle basics like user management and data exchange between applications. This allows print shop software developers to focus on advanced functionality.
With the Zaikio App Store, developers can easily expand into new markets without having to worry about international accounting and tax administration. With the Zaikio App Store, print shops find all the software they need in one place. In addition, with Zaikio Mission Control, operators can see at a glance what is happening in their print shop. A real-time dashboard, Mission Control automatically visualises data from the applications a print shop is using.

The first gathering in a long time for the print shop software industry
It has been a few years since so many key players in the printing software industry have met in such a convivial atmosphere. In the informal discussions in between the programme items, the participants were also able to find new points of contact with each other and initiate new projects. Zaikio is now leveraging the momentum from ZaiCon and is working towards the next milestone: to offer a complete range of modular print shop software in time for Drupa 2024.

"We are proud that we could bring together so many important industry players at our very first ZaiCon. This is a significant step towards our goal of making printers more efficient and future-proof through modular software from different suppliers", says Matthias Prinz.

All presentations will be available soon as videos on zaikio.com/zaicon.