Graves' extensive graphic arts experience in prepress, production, sales, and marketing position him well for success in this new role.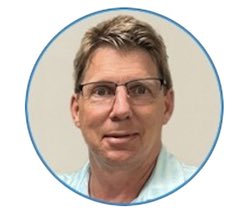 Wheaton IL. Aleyant, an innovative leader in providing robust software services to the graphic communications industry, today announced the promotion of David Graves to Sales and Marketing Manager. In this role, he will oversee all sales and marketing activities for Aleyant. Graves joined the company in September of 2021 as a Direct Sales Specialist after a career in the graphic arts industry that prepared him well for this opportunity and provided him with an ideal background for success. Graves started his career working in printing companies, first as a production manager/graphic artist, and then as a prepress manager. He later worked for Konica Minolta as a systems analyst, and then as a dealer/distributor for Canon and Ricoh solutions. He also spent time at an ad agency, where he acquired experience in marketing.
"When Aleyant reached out to me in 2021 to join the company as a sales executive," Graves said, "I was excited about the opportunity to move into software sales due to the growth and potential in this industry. Plus, I had used and admired Aleyant products in my past role as a prepress manager for a commercial printer. After reacquainting myself with the current products and services Aleyant offered, I met my sales quotas and was honored to receive this promotion. I look forward to working with the sales team and our partner networks to modernize our sales processes, moving from primarily following up on inbound leads to a more proactive lead generation approach that will help us secure more new customers."
During his 18 years with the commercial printing firm, Graves evolved the company from a conventional film-based prepress process to a CTP-based proofing and production workflow, ultimately adding Aleyant Pressero as a customer-facing interface. "That experience, and the subsequent roles he held with Konica Minolta and the Canon/Ricoh dealer, positioned him well to transition into sales, and then sales and marketing management at Aleyant," said CEO Greg Salzman. "We are delighted to have him on board and have high expectations for the progress his fresh perspective will bring us."
"Aleyant is well positioned for growth and with a competitive advantage of being one of the early cloud-based software solutions supporting the printing industry," Graves added. "Since those early days, the company has not only grown in terms of customer base and geographic reach, it has assembled an unmatched product portfolio designed exactly for the needs of today's printing companies, through organic development, acquisitions and key partnerships. I look forward to accelerating this growth even more."
Start Automating Your Success today at www.aleyant.com.