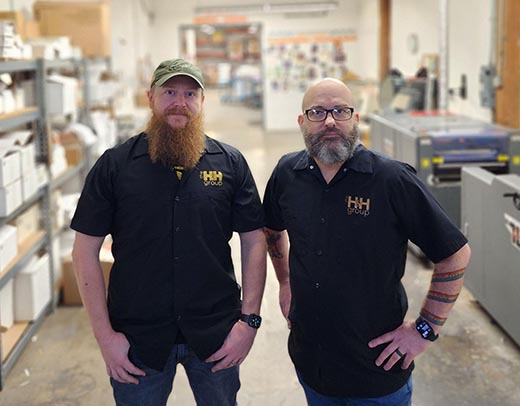 Nate Heisey, COO, and Mike Williams, CEO of The H&H Group
Lancaster, PA - The H&H Group is pleased to announce its 50th Anniversary! Way back in 1973, the H&H Group started as a family-owned company serving the local print market and then grew to incorporate a wide variety of services, focusing on integrity, relationships, and problem-solving for its clientele. The company has always been at the forefront, an innovator in the printing industry, quickly growing its reputation.
As they move into their 50th year of operation, they want their decisions to help their clients for the next 50 years. H&H already has state-of-the-art technology, but they realize that their clients face many marketing challenges, and they want to continue delivering superior solutions.
With that in mind, H&H has expanded its Direct Mail services to include MindFire solutions to complete its digital marketing integration, with a personalized experience that enables marketers to create one-to-one relationships and have unparalleled response rates, data, and analytics. They chose the MindFire Concierge Program to continue to focus on supporting their clients' needs and have MindFire come along beside them to offer best-in-class innovative solutions.
This new program will help H&H leverage better predictive analysis on consumer behavior, deliver deeper solutions, and retarget to improve conversions and profitability, acquiring business at higher margins.
"Our new program is based on the fact that our clients, who market themselves, want data-driven solutions that use their information to the fullest to tailor the message to their individual recipients ... and gives them back quality data on engagement that they can act upon," says Mike Williams, CEO of The H&H Group. "In today's market, the more you know about your customers, their response preferences, and their behaviors, the more you can deliver the most appropriate offers and content. We are making this process available to every one of our clients and not just the elite. That's a win!"