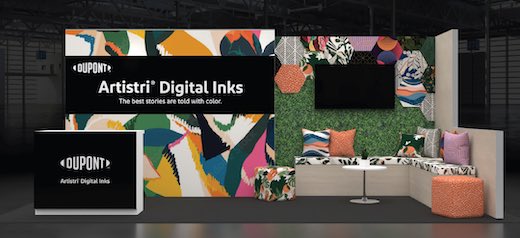 Willmington, Delaware – The DuPont™ Artistri® Digital Inks team is looking forward to participating at the 2023 Impressions Expo Long Beach in California (CA), USA. The DuPont™ Artistri® North America team will be available at Booth No. 872, Long Beach Convention Center from January 20-22, 2023. DuPont™ Artistri® will showcase high-performance digital textile printing solutions for decorated apparel for direct-to-garment (DTG), direct-to-film (DTF), and roll-to-roll (RTR) applications.

DuPont will be introducing its newly developed Artistri® P1600 inks. The Artistri® P1600 inks is a low viscosity ink specially designed for DTF applications. Visitors will be able to see firsthand at the booth preliminary print samples with this ink.

Also on display will be the Artistri® P5500 inks for DTG, introduced at the 2022 Impressions Expo. Artistri® P5500 ink has received superb feedback from customers across regions. The ink set delivers excellent wash fastness with both press or oven curing with faster curing times. Artistri® P5590 white ink offers high opacity and stretch that customers value, along with longer shelf life. Robert Simpson, Americas Business Director, DuPont™ Artistri® Digital Inks said, "With Artistri® P5500 ink, printers can tailor their ink usage to the application without compromising on color, fastness, and repeatability. Customers find P5500 ink delivers more shirts per liter of ink and more shirts per hour printing, helping improve their bottom line". This high gamut volume aqueous-based ink package is designed to work in printers with low-viscosity piezo-electric printheads and is suitable for all DTG applications.

Artistri® aqueous pigment inks are a key asset for digital printing customers looking for high-quality prints, short runs, and customization while addressing the demand for sustainability and a lowering environmental footprint.

The booth will feature an extensive RTR printing range of pigment and dye sublimation inks, including Artistri® Xite P2700 and P3600 pigment inks, as well as Artistri® Xite S1500 and S2500 dye sublimation inks. Artistri® Xite P2700 pigment inks offer a best-in-class color gamut with deep, rich blacks, outstanding color saturation, and superior durability, meeting the needs of quality and conscious textile printers in apparel and home furnishings.

Robert added, "Digital textile printing with pigment and dye sublimation inks offers textile printing a path to a sustainable future. Technology improvements over the last few years, from printers to printheads to inks, allow fashion, activewear, home furnishings, and signage customers to print digitally with the quality matching that of analog processes. DuPont™ Artistri® provides a complete solution for brilliant and durable colors with less ink usage while still delivering printing consistency and dependability to help lower operations and maintenance costs."

About 'Impressions Expo'
Dates: January 20 - 22, 2023
Place: Long Beach Convention Center, Long Beach, CA
Information: https://impressionsexpo.com/longbeach/

About DuPont™ Artistri® Digital Inks
DuPont™ Artistri® is a leading manufacturer and innovator of digital inkjet printing inks for commercial, packaging, textile, office, and home printing applications. Artistri® digital inks combine DuPont's proprietary dispersions, polymers and ink formulations to deliver digital printing solutions to our customers world-wide. From the richest colors to custom formulations, DuPont™ Artistri® provides high quality digital inks that enable superior color consistency and durability across production runs and over time. With a 30+ year history in inkjet technology and innovation, Artistri® water-based inks deliver an innovative portfolio of products to bring your colors to life. Find the suitable ink for your digital printing system at artistri.dupont.com.