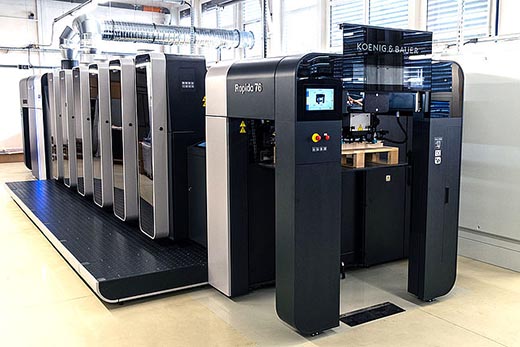 The Rapida 76 is the new centrepiece in the printshop at Tlaciaren Bardejov.
Folding carton production using the Rapida 76 and Omega Allpro 90
High-quality services covering all aspects of packaging
Up to fourfold increase in production capacity
Networked production with LogoTronic MES
The Slovakian print company Tlaciaren Bardejov was founded 25 years ago. It started out – like so many other print companies – as a small private business. Over the years it has grown to become a mid-size packaging specialist with in-house operations catering to all phases of the production process. Tlaciaren Bardejov has always attached particular importance to customer satisfaction. High printing and finishing quality is the focus of all the company's activities.
By investing in a five-colour Rapida 76 with inline coater, together with an Omega Allpro 90 folder-gluer, the company has boosted its production capacities in preparation for new and future market demands.
Production is primarily on solid and corrugated board substrates. All the presses in use were purchased in recent years in order to stay abreast of the growing challenges in terms of quality, delivery times and packaging design. Tlaciaren Bardejov is committed to providing high-quality services and product finishing options, including both striking coating effects and complex cut-outs.
The company today boasts two sheetfed offset presses, including the Rapida 76, a CtP platesetter, an Omega Allpro 90 line for carton folding and gluing, automatic die-cutters and embossing presses, hot-stamping, laminating and gluing machines, and a whole host of other equipment to round off packaging production.
Perfect for printing on board
The highly automated Rapida 76 in B2 half format was configured specifically for the product portfolio of Tlaciaren Bardejov. It prints board up to a thickness of 0.8 mm and has allowed the company to expand into the production of packaging for wines and spirits, as well as for e-commerce. The fifth printing unit permits the incorporation of spot colours (Pantone, HKS, metallic inks). This ensures most products can be printed and finished in a single pass, which reduces production costs significantly.
When it comes to finishing, the Rapida 76 also shines in the truest sense of the word. The integrated high-flow coater unit handles straightforward inline dispersion coatings and in combination with the last printing unit special multiple finishes as well. The latter option is used to produce matt-gloss refinements and add other visual effects to substrates. The Rapida 76 is equipped with IR and hot-air drying in its extended delivery. This provides for reliable drying even at high production speeds, enabling fast further processing of the printed sheets and correspondingly shorter throughput times for the individual jobs.
Maximising production potential in folding and gluing
Another key element of Tlaciaren Bardejov's innovation and investment plan was the purchase of an Omega Allpro 90. This folder-gluer maximises production potential – encompassing four- and six-corner cartons, for example, which are two gluing variants that are otherwise difficult to find in Slovakia. Compared to its previous set-up, the company has increased its production capacities for straight-line, crash-lock and double-wall cartons up to fourfold. The LogoTronic system assists Tlaciaren Bardejov with production planning and control, both on the Rapida 76 and on the Allpro 90. Owner Karol Dvorcak: "We recognised that it is currently essential to identify production reserves and to utilise savings potential. That is why we decided to network our production with production planning software." LogoTronic provides support with planning and control, and supplies reliable data for retrospective evaluation, for example for product costing.
Packaging for domestic and international customers
Tlaciaren Bardejov is based in the town of Bardejov, a location that enables it to supply folding cartons and other print products to customers both all over Slovakia and its neighbouring countries. Numerous jobs are handled for customers from Poland, and in particular from Kraków. Further long-standing business partners are to be found in Switzerland, the United Kingdom and Belgium.
The packaging market has undergone a dynamic development and change over the past few years. Many manufacturers use their packaging as a marketing tool and instrument for communication with their customers. Tla?iare? Bardejov is profiting from this growth. Even so, packaging production is by no means an easy industry, especially when faced with an energy crisis, increasing prices for raw materials, and strict environment protection regulations. "We are very fortunate in that we have been able to attract many new customers," says Karol Dvorcak, summing up the nevertheless positive situation for his company.